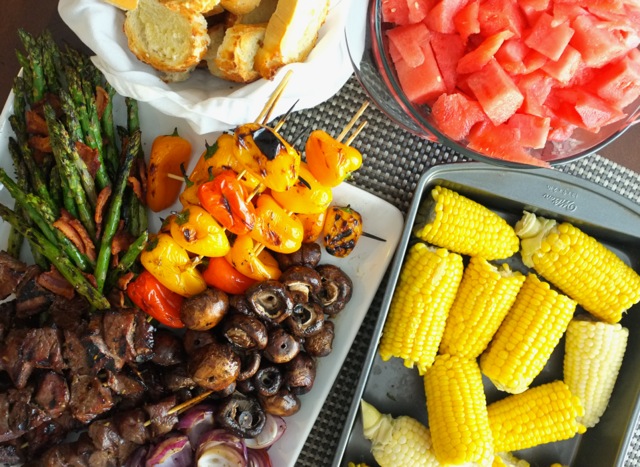 The 4th of July is this weekend, and we are ready to celebrate! Just hope the weather man is wrong about all that triple digit nonsense.  We went ahead and had a little family get together, so we could bring you this: Our  Summertime BBQ Kabobs RTO style (Romancing The Onion haha) with Beeriyaki marinade! If you have made kabobs, then you know what its like to suffer through the painstakingly long process of cutting the meat and veggies, arranging them in pleasant little patterns on sticks, chasing them around the bbq, only to have your dreams crushed by bits of chewy beef, burnt peppers, raw onions, and awkward stab wounds from hungrily trying to free your dinner from the tiny javelins.  We feel your pain, and we are here to help!
 It was the our night to cook for the fam, and Dad had requested Mom's homemade teriyaki "beef on sticks".  With further questioning (thanks Ma), we discovered what Mom's secret measurements for a pinch of this and a splash of that might actually measure out to, and that dad was trying to say he wanted kabobs. Since Kaly and I have never completely given up our rebel streak, we added a funky twist of our own.
Side note: our poor dad got called out for a wild land fire and missed the whole dinner! We owe ya one Pops.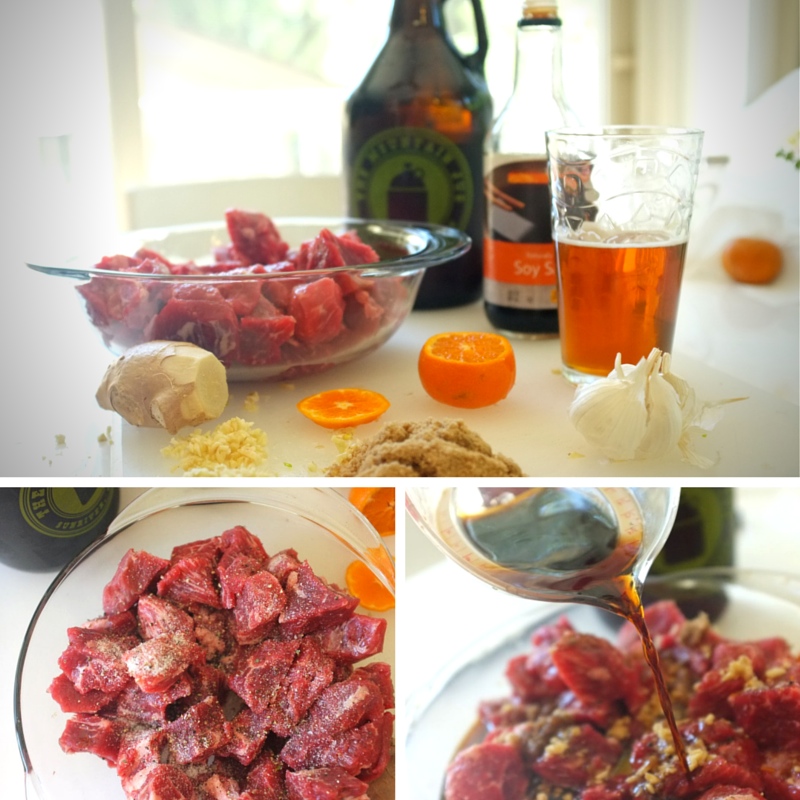 So the first, smarty pants thing you can do, is head down to your local meat counter and have them cut you up some tri-tip into neat little 2 inch-ish cubes while you shop. Boom..saved you at least 10 minutes there!  When you are ready to marinade, 4-24 hours before cooking, place meat in large zip lock or bowl and sprinkle with salt and pepper.  Next, throw in your ginger orange peel, and garlic.  Mix up the soy sauce, beer (our rebel addition), mandarin juice, and brown sugar in large measuring cup, and then pour over meat and mix.  We like to call this concoction Beeriyaki! The beer adds flavor but also helps tenderize. Wrap/ zip it up and stick your beef in the fridge.  If you are really awesome, then you would soak your wooden skewers in some water at this point too, which I um..may or may not have forgotten to do, and the sticks might have caught fire on the grill..eek!
Now for the RTO kabob hacks:
Like we noted above soak your wooden skewers in water for at least 30 minutes
Pat skewers dry and roll them in olive oil on a sheet pan
Oil the grill with a wad of paper towels
Start with hot a grill that sizzles when kabobs are placed on.  Try not to let them become engulfed in flames though!
Instead of skewering items with one skewer double up! Tah Dah, why in the world did it take so long to figure this one out?! It makes them much more secure and much easier flipping on the grill! 
Group each vegetable type and meat separately on kabobs (Resist the urge to make that vegetable meat pattern!  It seems boring at first, but once you have everything done up on a platter, no one will be missing any color, and they will be loving that everything is evenly grilled.
Leave a little space in between each item on the skewers, rather than packing them on tight. This allows for even cooking!
A good douse of olive oil and liberal seasoning with salt and pepper on the vegetables does wonders
Keep in mind that you should have skewers for each person try everything! After grilling we chose to remove the mushrooms and onions, and asparagus from the skewers because we knew a fight would break out over the mushroom kabobs! And also, it just felt right for the platter.
Save the beef marinade! Throw it in a pot and reduce it until its slightly thicker.  While the kabobs are grilling, brush it on at anytime.
All set, now let's grill!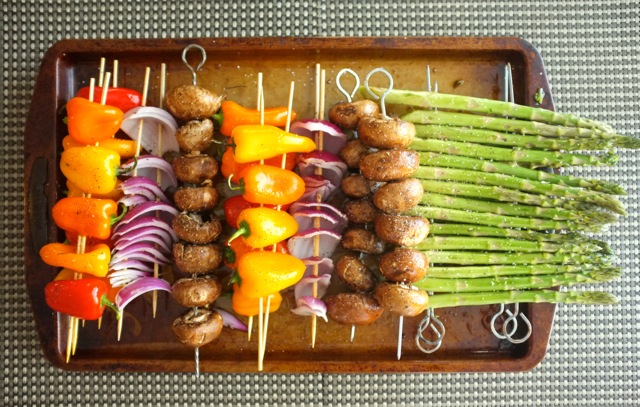 These guys (meat kabobs below) were on for about 5 minutes with the lid shut before they got flipped. Another 5 minutes on the backside and a quick 2-3minutes on the smaller sides and they were medium.  Give your meat the finger test for doneness.  Not sure what that is? Read more here.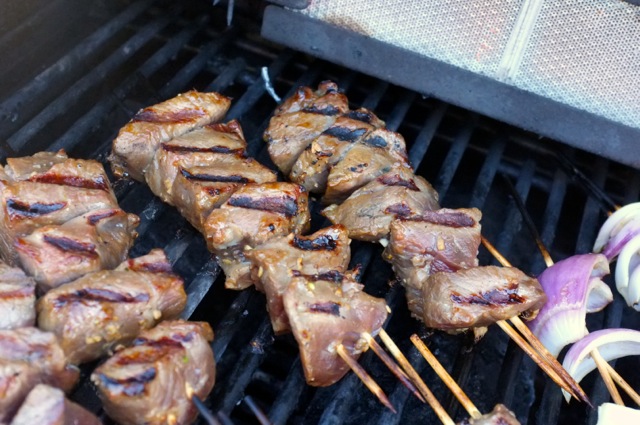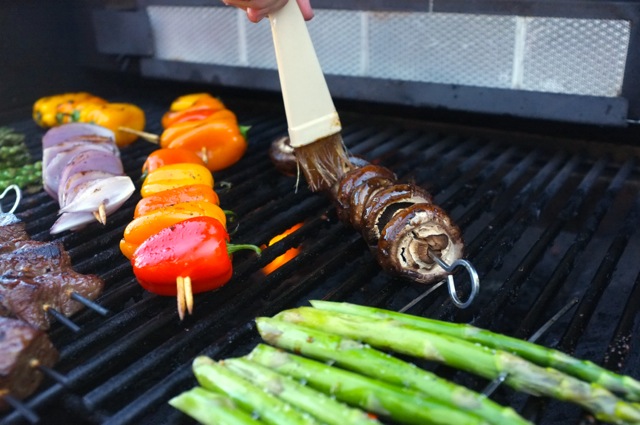 Beeriyaki beef mmm.
Summer BBQ Kabobs
Cuisine:
Middle Eastern, Asian, American
Prep time:
Cook time:
Total time:
Beef and vegetable summertime bbq kabobs, with a beeriyaki marinade.
Ingredients
3 Pounds beef tri tip cut into 2 inch-ish cubes (or sub what you got)
1 tsp black pepper
1 tsp salt
2 Tbsp fresh ginger minced
1 Tbsp fresh garlic minced
zest and juice from 2 Mandarin oranges
½ cup soy sauce
½ cup medium-dark beer
½ cup packed brown sugar
1 bunch asparagus
¼ cup olive oil
salt and pepper to taste
1 pound mushrooms (baby bellas pictured)
1 red onion
15 or so sweet mini peppers
Instructions
Put beef in bowl or zip lock bag and season with salt and pepper. Add the ginger, garlic, and mandarin zest.
In large measuring cup mix soy, sugar, beer, and mandarin juice, and pour over meat.
Seal and refrigerate 4-24 hours.
An hour or s before dinner, start skewering the veggies and meat.
Coat veggie kabobs with olive oil and season with salt and pepper.
Save the left over marinade, and cook down until slightly thick (for glazing on the grill)
Heat grill hot enough to sizzle the kabobs, but not enough to scorch them with flames.
Grill veggies (first if you don't have enough room) to desired doneness. We did our asparagus about 3 min on each side, peppers were about 5 min each side, mushrooms were 10 min total, and the onions were 15 min on lower heat portion of bbq.
Half way through cooking brush kabobs with left over marinade.
Grill meat approx. 5 min on first side and 5 min on the next followed by 2-3 min on the other sides for medium.
Again brush the meat with marinade during cooking for that shiny look.
Serve everything together and enjoy!