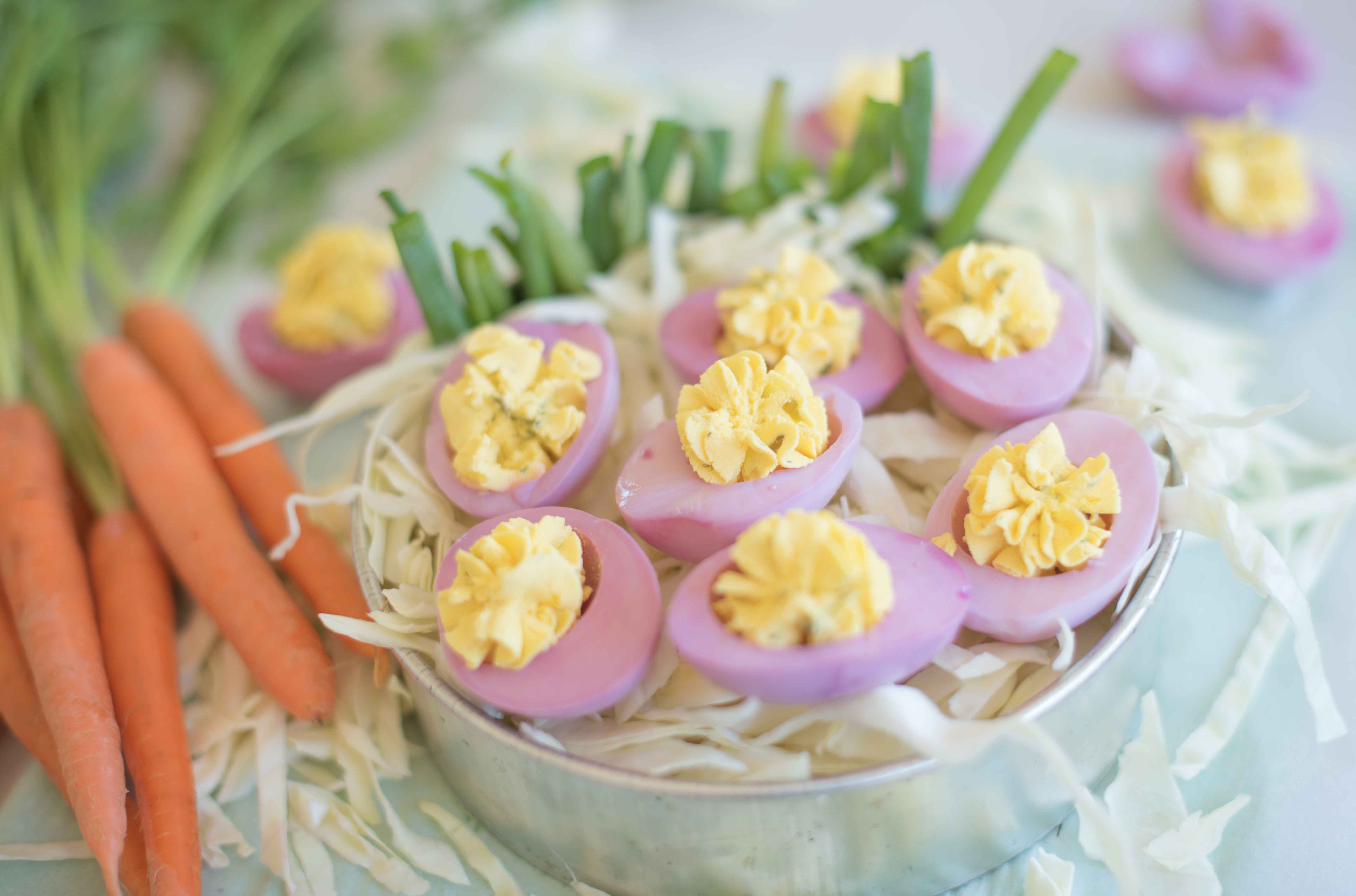 It's a sunny beautiful weekend here in CA perfect for some egg dying!

Fun twist on traditional Deviled Eggs.
First off take 8 eggs and throw em in a pot of water (Gently! We don't want any eggy explosions!)
Turn your lovely egg bath onto medium and add 1/2 teaspoon of baking soda.
(Fun fact: This helps with the shell removal!)
Once nice and bubbly, boil for 12 Minutes.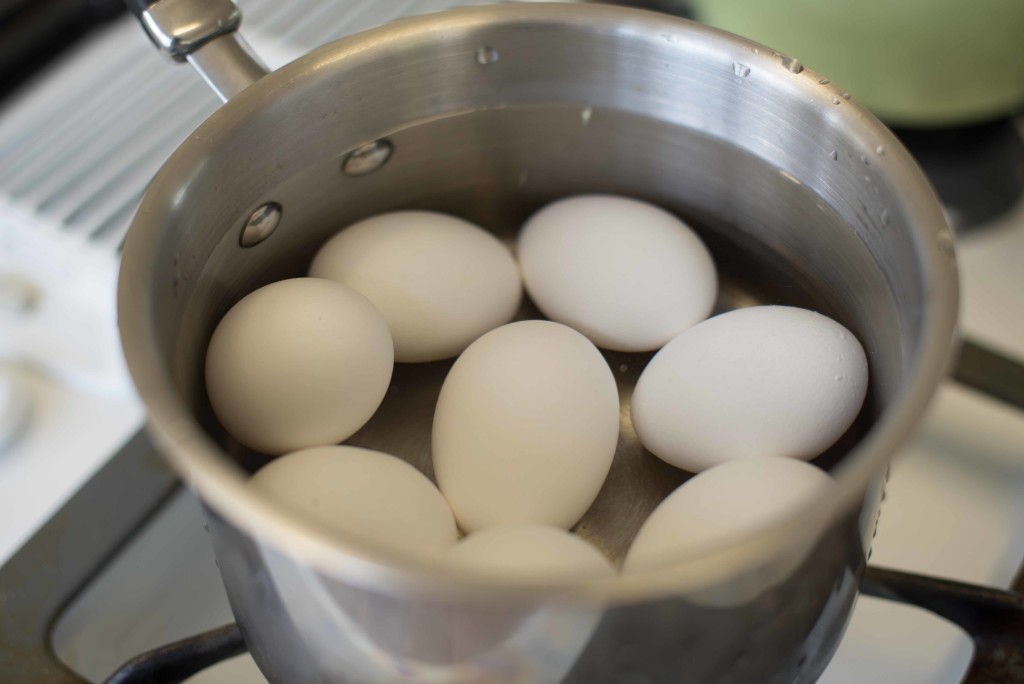 Peel them!
I found putting them in a bath of cold water for a minute or so and then peeling makes this much easier.
Then, Prepare the egg color bath…
First Off: This does NOT effect the taste of these little guys.
Make or buy some Beet Juice. (Homemade Beet Juice without a Juicer found HERE!)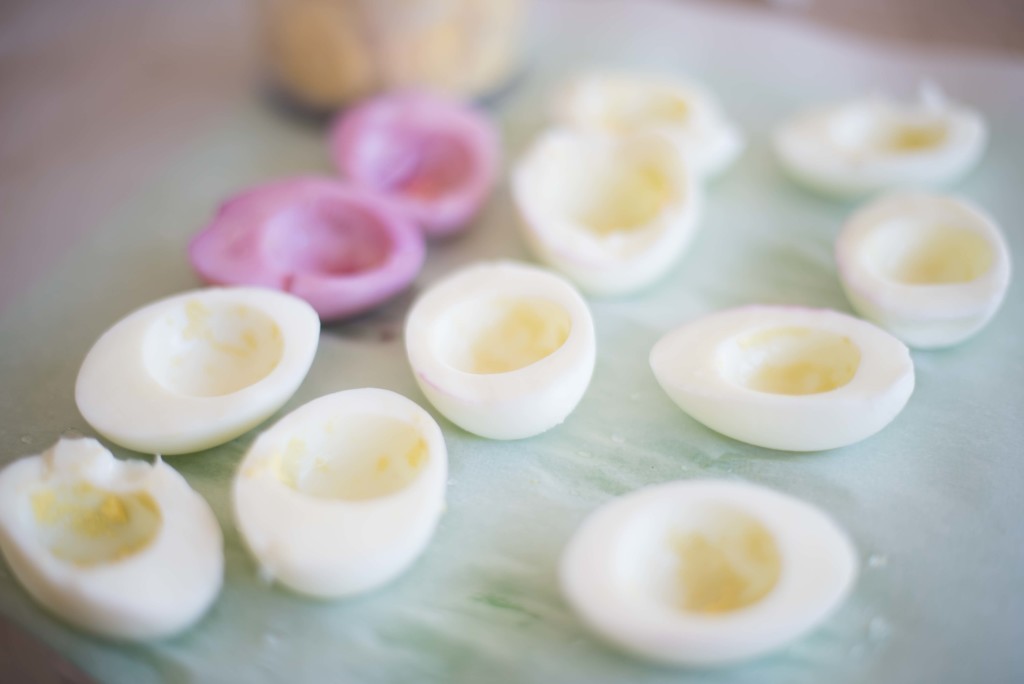 Add a little water to your beet juice if needed, and drop em in!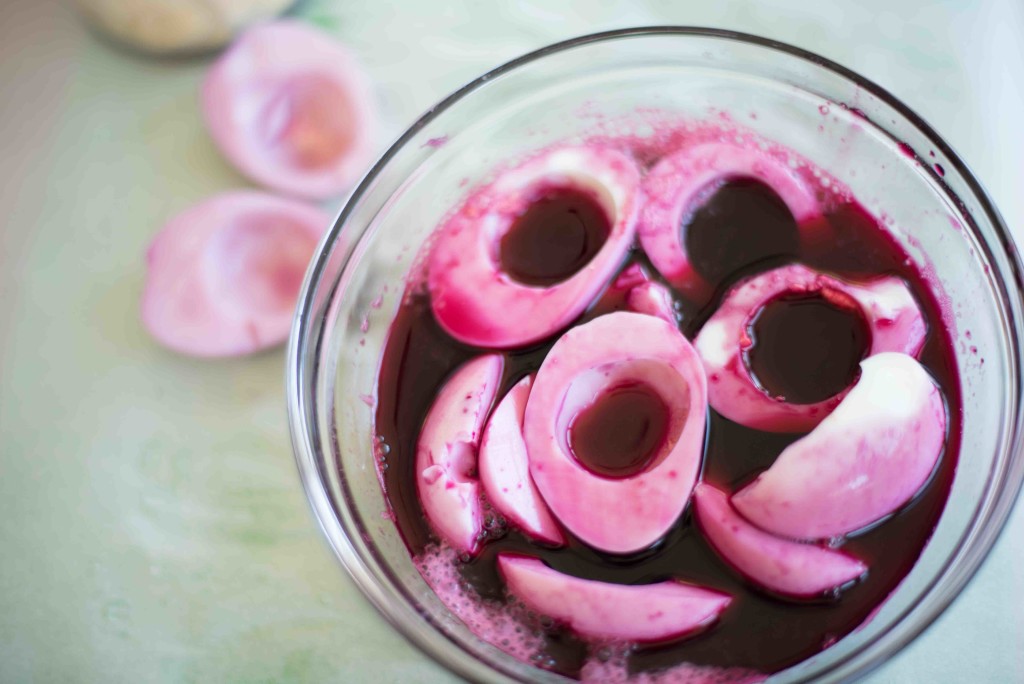 I just dropped them in and took them right out. If you would like darker eggs leave them in a little longer!
(Also, parchment paper is a cutting board/counter saver here.)
Gently Pat Dry.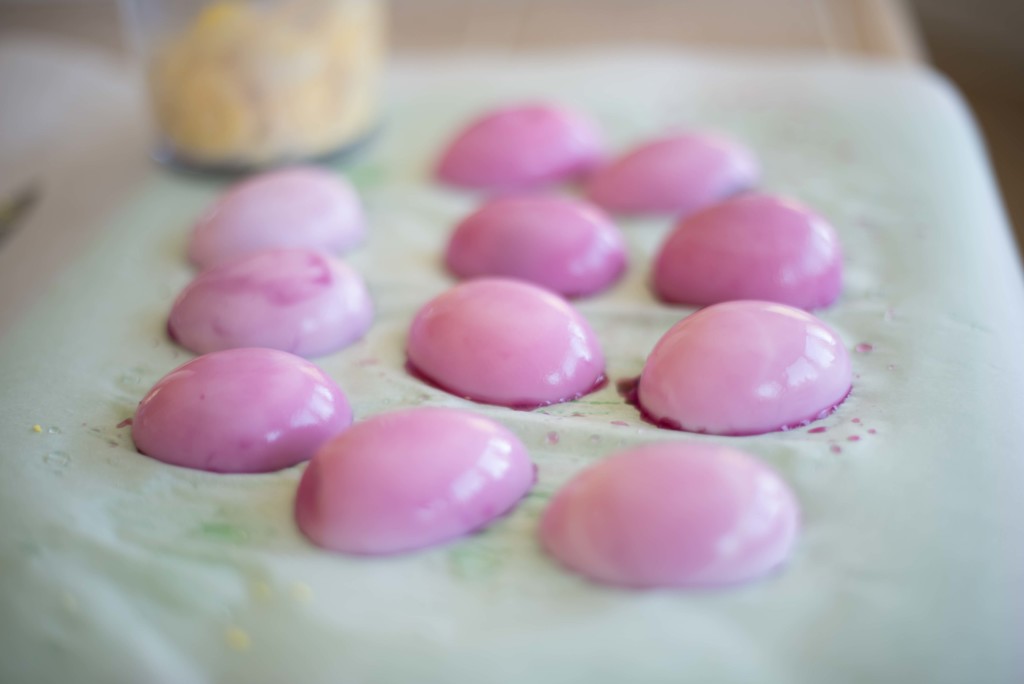 Whip up/smash with a fork your filling ingredients. I used 8 yolks, 2 tablespoons of mayo (or greek yogurt!), 1 tablespoon relish (I used sweet), 1 teaspoon mustard, sprinkle of pepper, and a teaspoon of parsley. If it needs more moisture add in a bit more mayo or relish to your tastes!
To  Fill: Use a pastry bag and tip, or in a pinch use a ziplock bag.
To Serve: Chop up some Cabbage if you so choose, maybe even throw in some green onion "grass" for fun! and fill your tasty little purplefied eggs.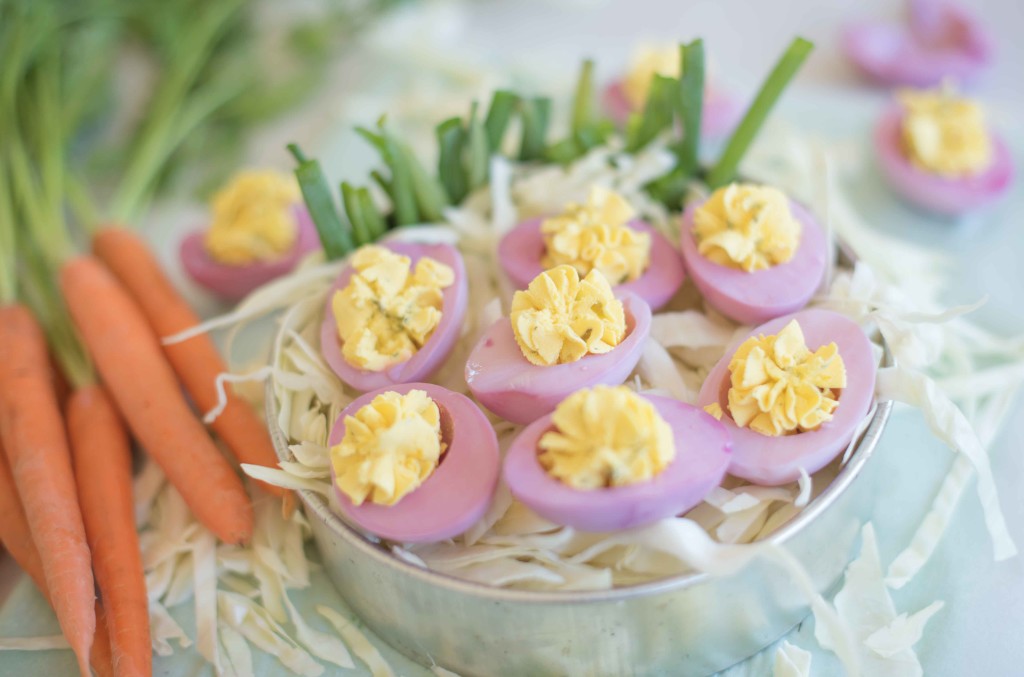 Enjoy!

Dyed Deviled Eggs
Prep time:
Cook time:
Total time:
A fun twist on traditional Deviled Eggs.
Ingredients
Coloring:
Food coloring or Beet Juice
Filling:
8 Eggs
2 Tablespoons Mayo (Or Greek Yogurt!)
1 Teaspoon Mustard
1 Tablespoon Relish
Sprinkle of Pepper
1 teaspoon of Parsley
If it needs more moisture add in a bit more mayo or Relish to your tastes!
Fun Options:
Green Onions
BACON
Jalepenos
Chopped Carrot
Serve on a Bed of Chopped Cabbage or Green Onion.
Instructions
Put eggs into a 2 qt pot on stove with water covering them.
Add ½ Teaspoon of Baking Soda (To help with Peeling)
Turn to medium.
Bring to a boil and boil for 12 minutes.
Put into a cold water bath for 1 Minute and Peel.
Coloring:
Set out bowls with 3-8 drop food coloring depending on how dark you want the color.
Beet Coloring: Follow same steps but dilute juice with a bit of water.
Drop halved (with yolks removed) or whole eggs into the color.
Soak until desired color reached. (About 30 seconds-3 Minutes.)
Pat Dry.
Filling:
Mash Yolks, Mayo, Mustard, Relish, Pepper, Parsley, and other Optional fillings together until nice smooth consistency and fill your eggs!
Serve.
Option B: Food Coloring
Fill a few bowls with about 3-8 drops of color depending how dark you want your eggs (Pastels are less drops and less soaking time.) Once they are peeled you may drop them in whole, or halved depending on the look you want. Then let them soak until they are the color you would like! (Only takes a couple minutes!) Pat Dry. Fill. Eat.