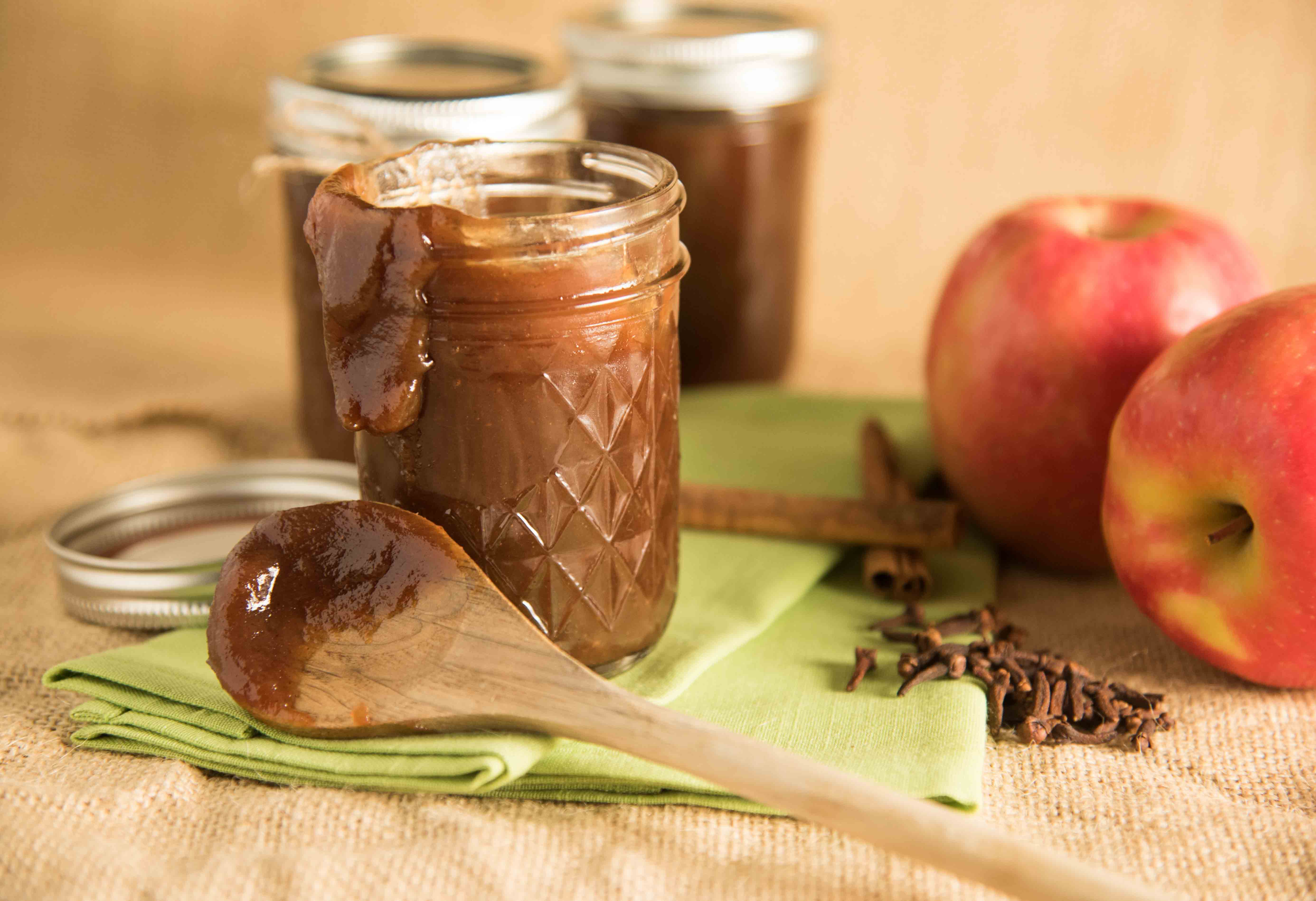 Find some apples and follow me…..

So here we have something Oh so simple but Oh so glorious.
I just wanna smother an english muffin in the warm spices and apple goodness that is "Apple Butter"
Every Morning.
The hardest about this recipe is the apple peeling, but really I find it to be my favorite part. The spiraling apples and stingy peels bring me back to the days of making applesauce with my grandma. The cranking of the peeler, trying to get one whole apple string without it breaking, all of it just makes me smile.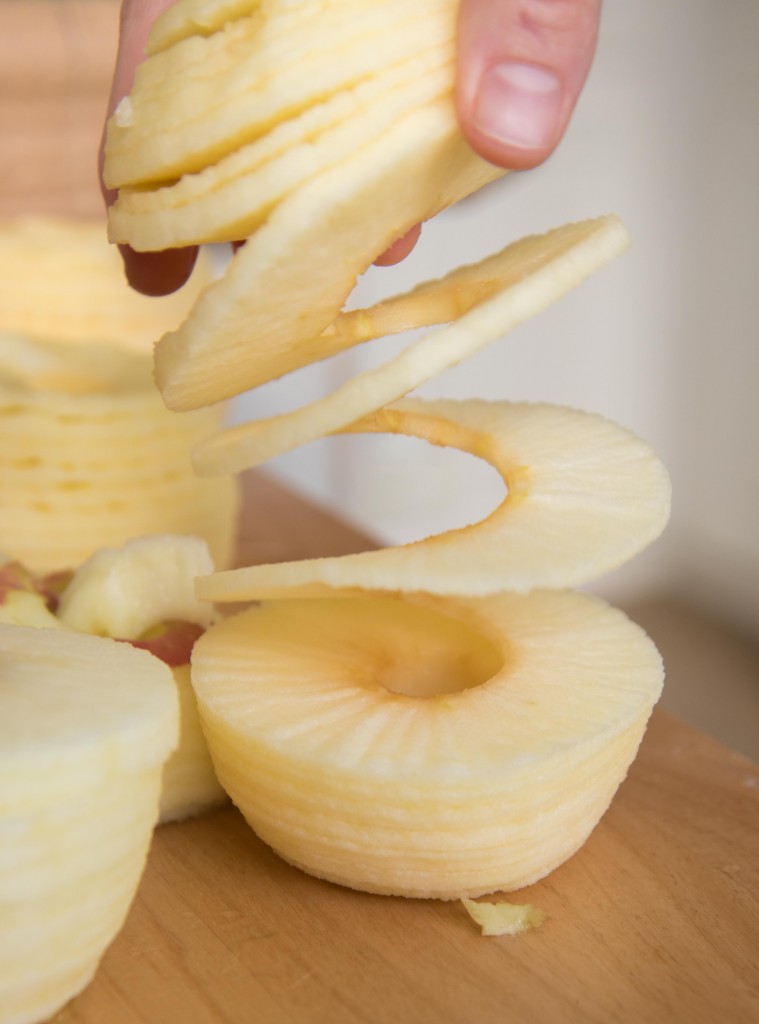 To start Pour the 1/2 Cup of Apple Cider Vinegar into your crockpot and turn on to high.
Take 5lbs of apples, about 10 large apples. (Preferably with a sweet and slightly tangy taste) Peel them and slice them, adding to the crock pot as you go.
The Apple Cider helps prevent the Apples from burning and adds a little tang. You may have to chop a few apples into smaller pieces to help them fit in the crockpot.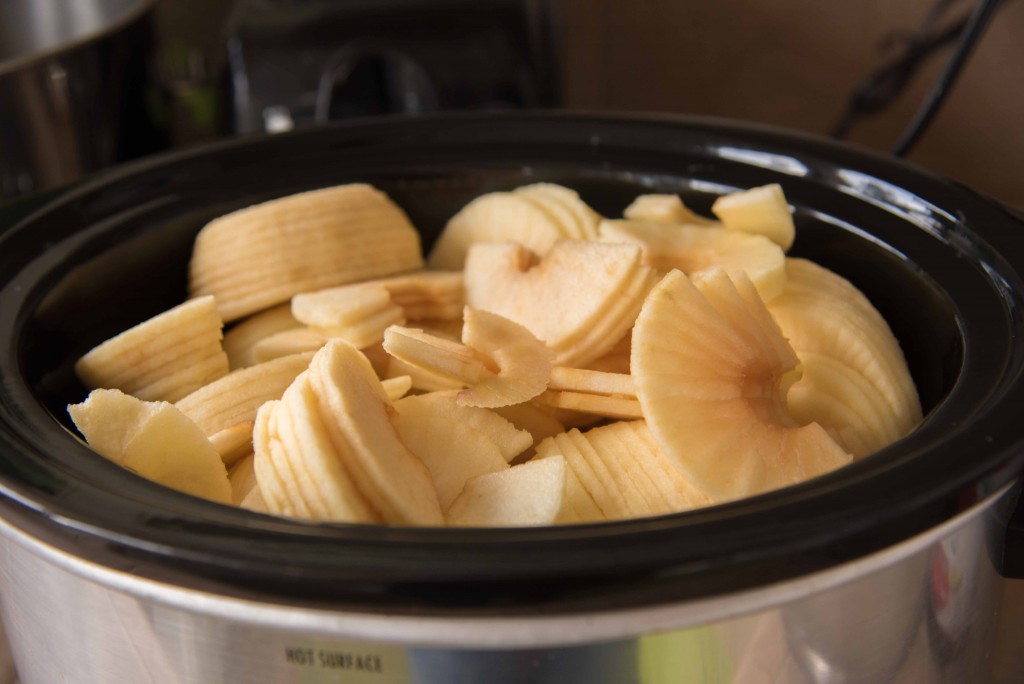 Put on the lid and cook for 8 hours on high. Check halfway and give a small stir.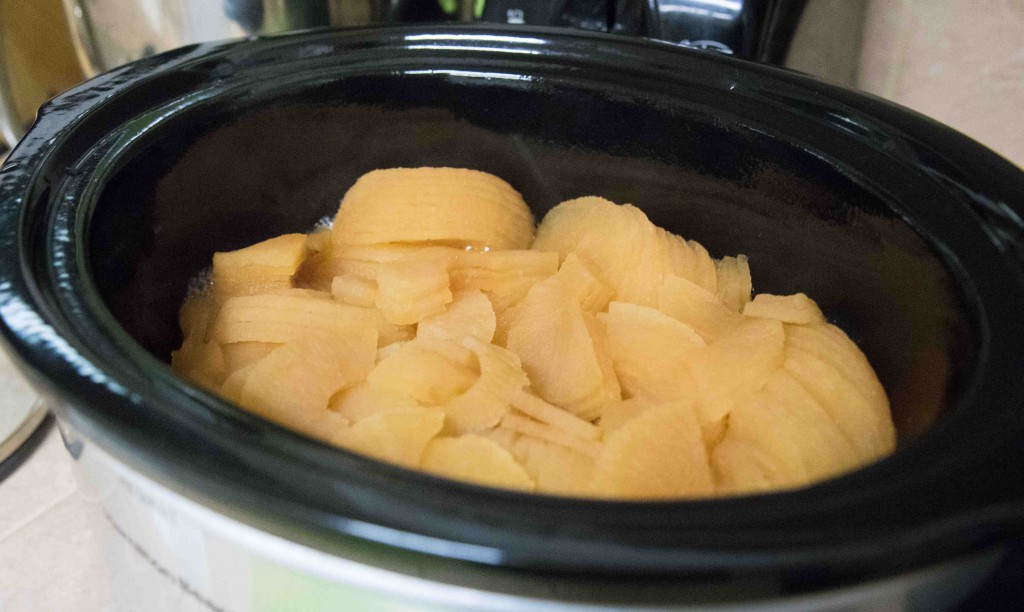 Turn the Crockpot to low and cook for 10 Hours.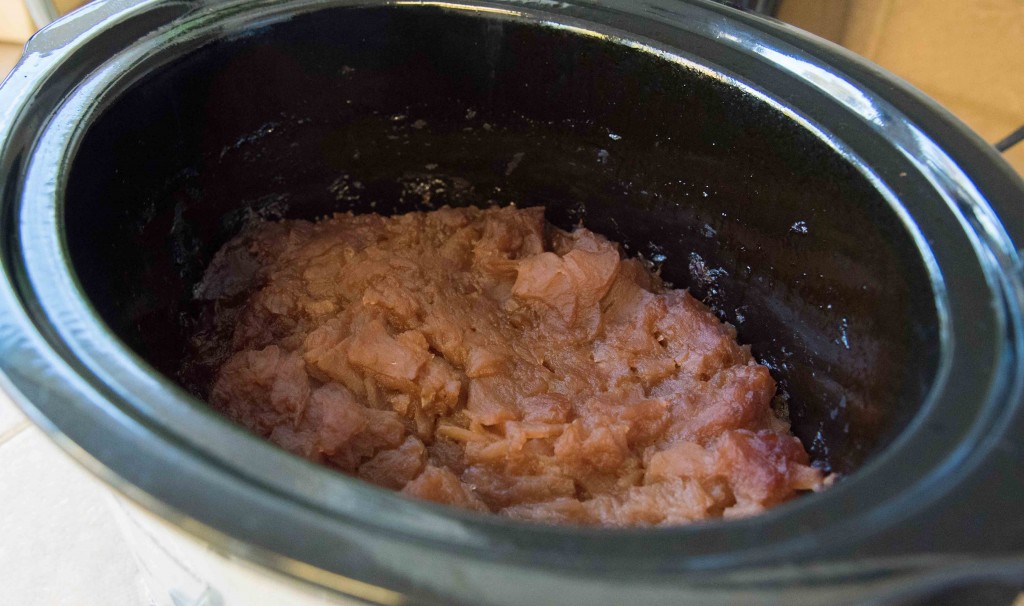 The apples should now be a darker color and cooked down quiet a bit.
At this point add some sweetness, some spice, and everything nice.
You may want to add in half the spices then taste test and adjust to your liking.
Stir in the 1 1/2 Cup of Sugar, 1 Cup of Brown Sugar, 1/2 Tablespoon of Cinnamon, 1/2 teaspoon of Ground Cloves, and 1/2 teaspoon of Nutmeg.
Cook for 4 hours on low checking about once an hour and stirring. (Make sure to get the sides and bottom really good to prevent burning)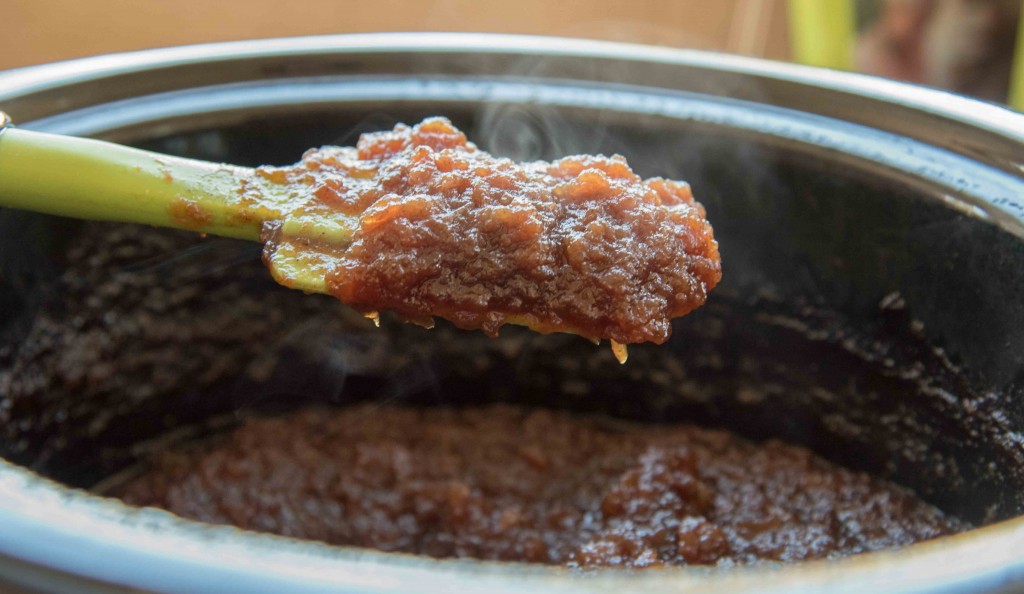 Ohhhh steamy Apple Butter. Mmmmm.
Blend! You can pour it into a blender or use a hand blender. The hand blender I find to be so much easier. Then you can keep it in the crockpot! So handy. I got one for Christmas and have used it everyday at home since! (And it's green! Love!) Seriously. Ash had one at her house we kept using and we deemed it the "The Magic Wand".
Here's the link if you want to check it out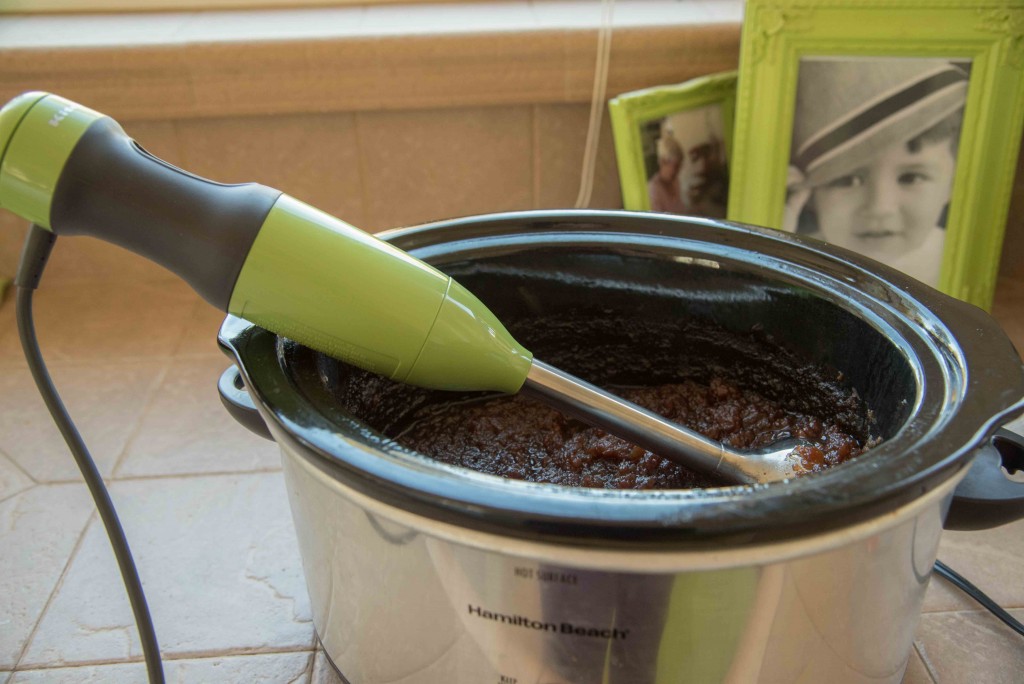 After Blending it should be nice and smooth.
At this point you can pour into a container and keep in your fridge to devour. (Or Freeze)
Or, you can process in Jars (While it is still hot!)  for 10 Minutes to Can and Preserve for a couple weeks.
I use the Ball Canning Methods for Processing. (More to come on that soon!)
The Canning Process also helps the Apple Butter Set up a little more.
I did this for Christmas gifts and they we super cute and tasty! It makes about 48 ounces or 6 8 ounce Jars worth.

Crockpot Apple Butter
Prep time:
Cook time:
Total time:
A warm smooth spread that is great for cheese plates, on breakfast items, or as a tasty dip. Apple Butter is also great for canning and super easy to make since it's in the crockpot.
Ingredients
5lbs Sweet and Tangy Apples (I used Honey Crisp) (5lbs is about 10 Large Apples)
½ Cup Apple Cider Vinegar
1½ Cup Sugar
1 Cup Brown Sugar
½ Tablespoon Cinnamon
½ Teaspoon Ground Cloves
½ Teaspoon Nutmeg
Instructions
Place the vinegar in your crockpot and turn on high.
Core and peel your apples, adding the apples to the crockpot as you go.
You may have to chop them up a bit to get them to fit.
Put on the lid and cook for 8 Hours on HIGH, checking halfway through and stirring.
Then turn the crockpot to LOW and cook for 10 hours.
Stir in spices and sugars. (You may want to add in half the spice then taste test.)
Then cook for 4 hours more on LOW stirring about every hour.
Make sure to scrape sides and bottom to prevent burning.
Blend to a smooth consistency and pour into containers to refrigerate or freeze.
Or Process the Butter in 6 8oz jars for 10 Minutes in a water bath. Shelf life is then a couple weeks. (I use the Ball brand processing methods.)
Enjoy!