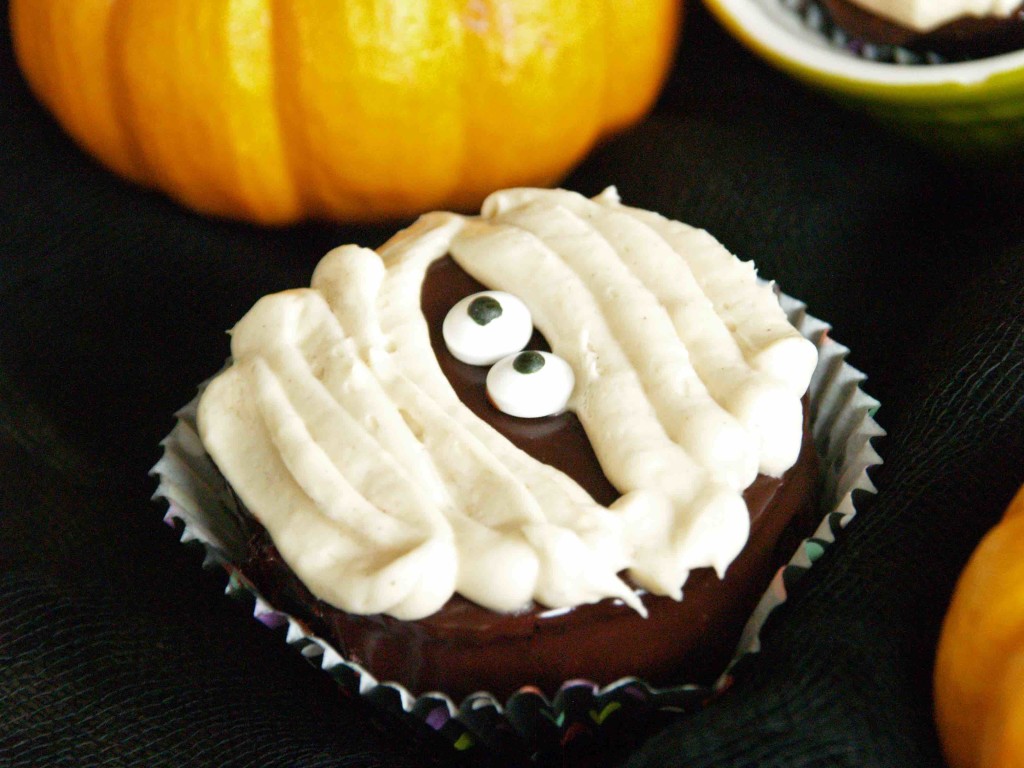 First: CHOCOLATE.
Second: Spooky Treat.
Third: Just plain delicious.
Any questions?
Let's make some cupcakes.
(Or "BOO"ze Cakes if your going that route. 😉 )
These cupcakes have been on my number one cupcake list for a while (and possibly in my dreams Mmm). I'm normally not a cupcake person, but for these I make an exception. After eating trying batch after batch of cupcakes, we have achieved a magical RTO version of the Chocolate Guinness Cupcake, Chocolate Whiskey Ganache, and Baileys Frosting combo.
*drools*
These also go perfectly as the dessert for the Spooky Verde Chicken Soup and Bat Wing Nachos!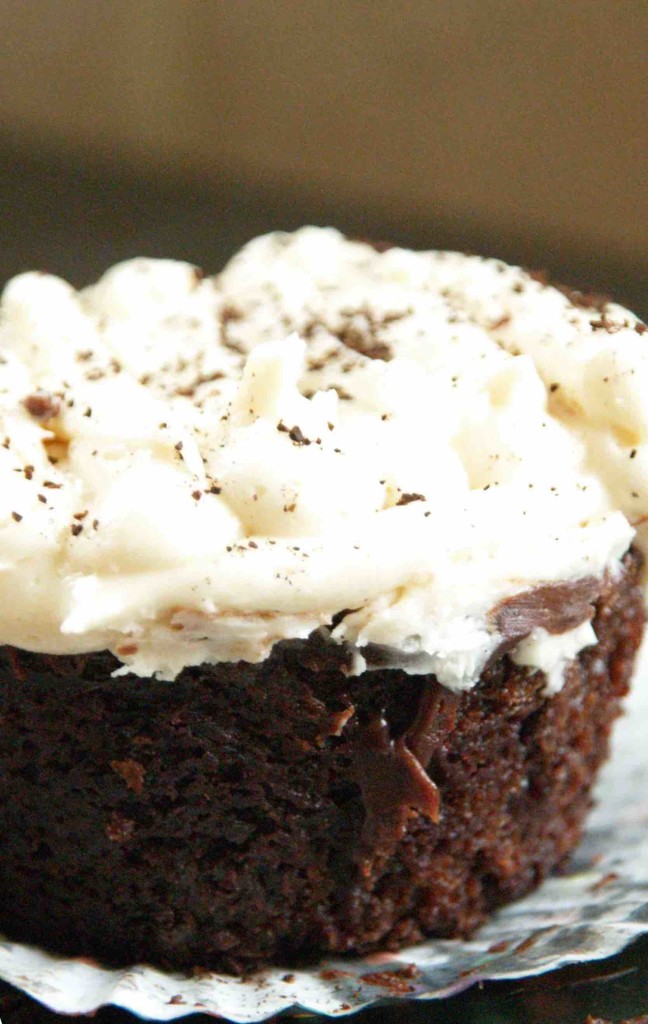 To start these little chocolate wonders,
Mix all wet ingredients in one bowl.  (Melt the Butter First then add in the rest of the wet ingredients.)
Then all dry ingredients in the other.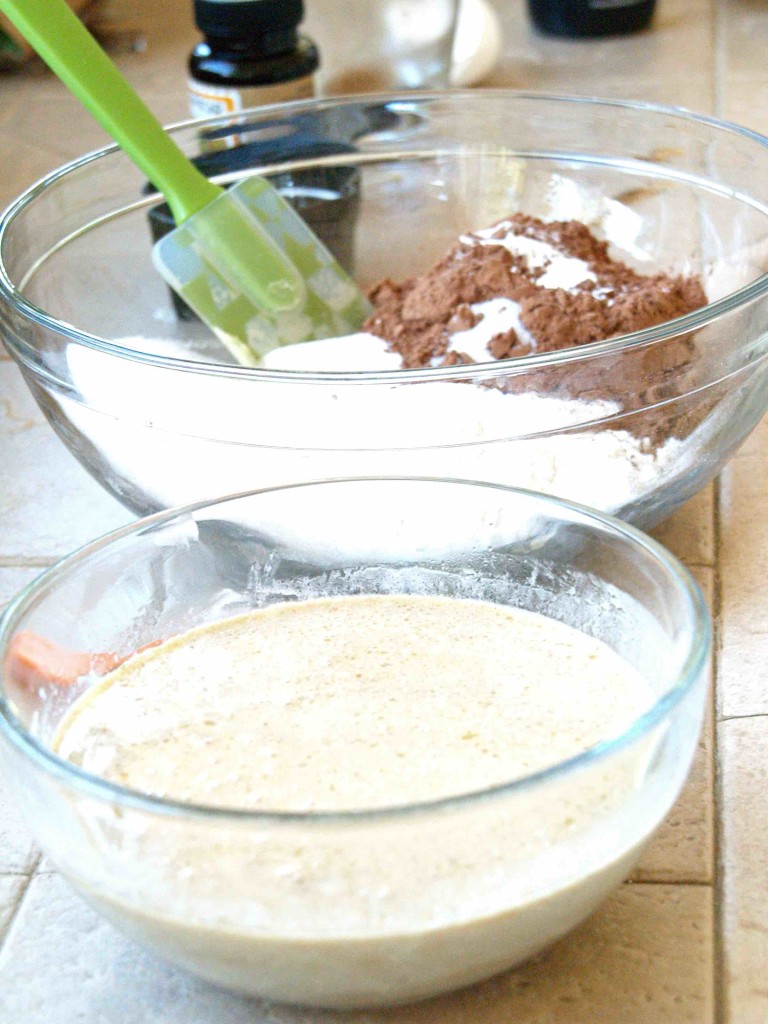 Combine, Batter may still be slightly lumpy – don't over mix.
Note: To Grease and "Flour" these without the white residue when finished, use Cocoa Powder instead of Flour!
Or use Cupcake Liners 😀
Pour into the Cupcake pan size of your liking and bake at 350
Depending on your preference on how fluffy your cupcake tops are – adjust fullness before baking.
(The picture below were filled close to the top)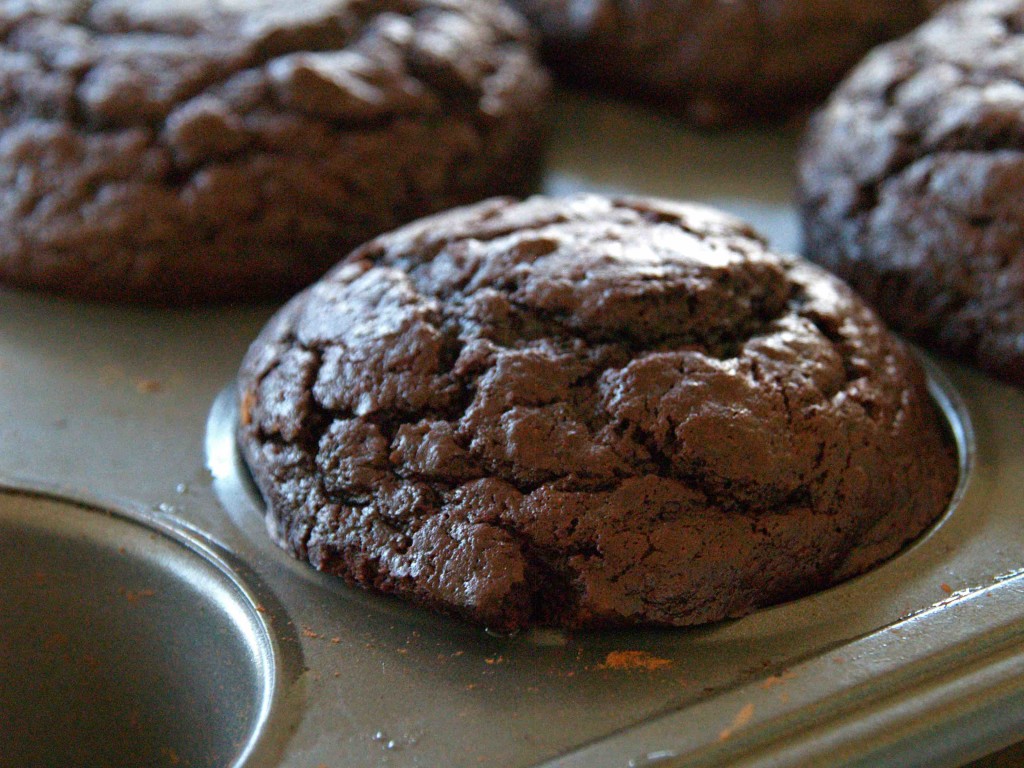 Ohhhhh. Try not to eat them all when they come out of the oven.
LET THEM COOL.
Follow Recipe For Ganache and Pour over COOLED Cupcakes.
(These guys were a lot less full then the ones up above)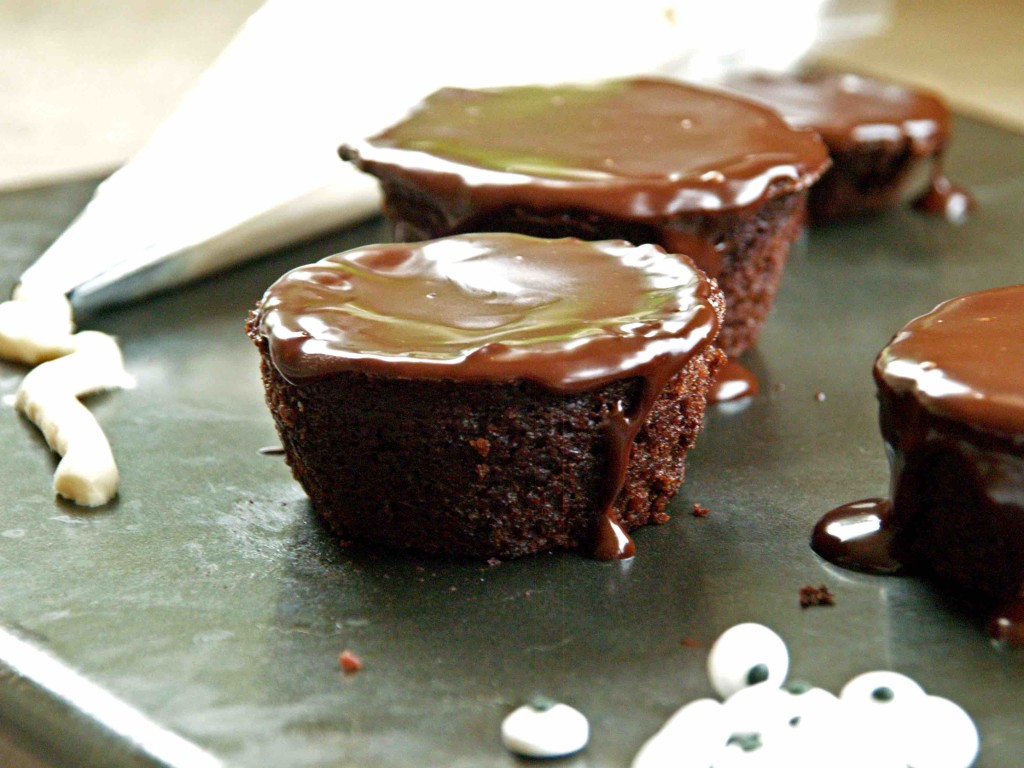 Don't be afraid to be a little messy! A little Ganache down the sides doesn't hurt. If anything it adds to the YUMM factor. If you want ganache in the middle of the cupcake use your finger, or the back of a spoon to poke a hole halfway through the cupcake and fill it with ganache.
(Ta Da! Ganache in the middle!)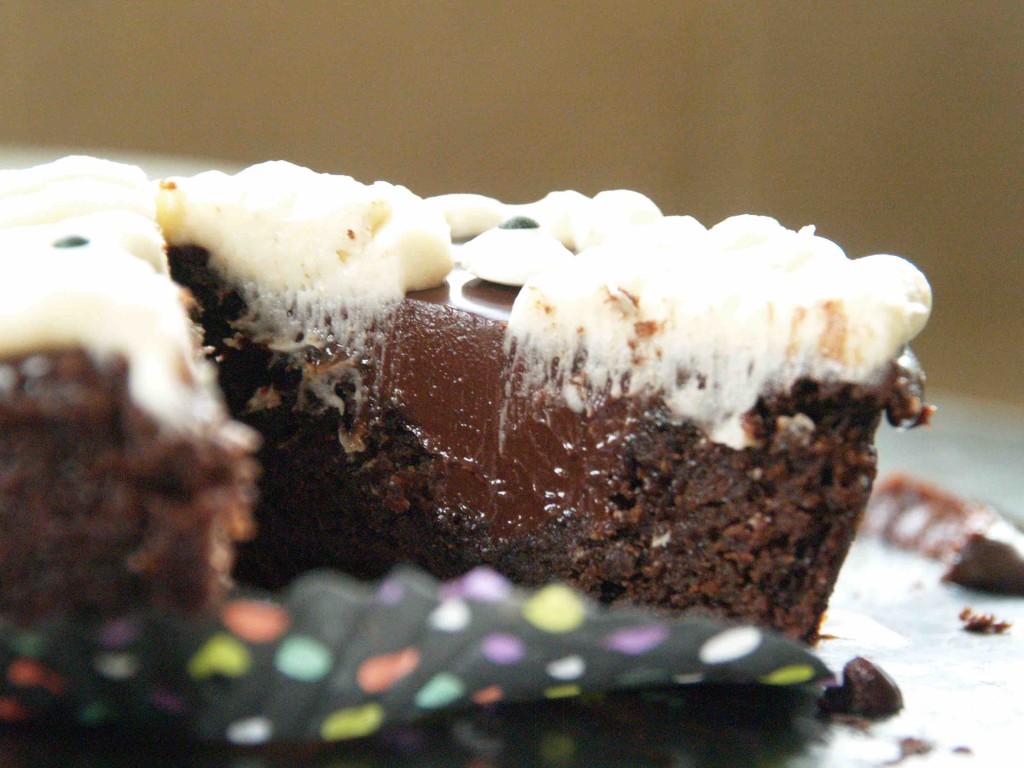 Pop em in the fridge for about 10 minutes or until ganache is firm.
Decorate as you please! I loved the mummy ones, but you can also top them with Frosting and Coffee Grounds for a more Classic Cupcake look. Or even just Ganache! (Candy eyes are sold at most stores in October but can also be ordered Here .)
Can we take a moment and glance at that Cupcake in a soufflé Cup? It's slightly genius. especially if you have small friends (aka kids) who make a bit less of  a mess with a fork …… or at least a contained area for their cupcake. 😉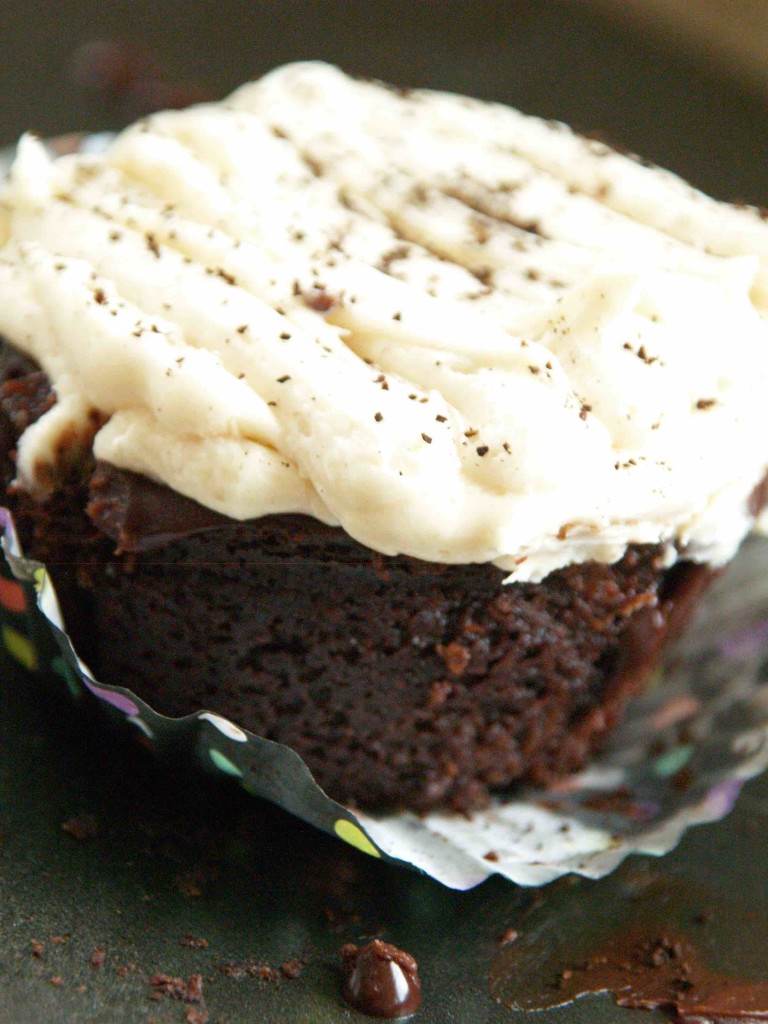 Chocolate Guinness Cupcakes
Prep time:
Cook time:
Total time:
A spooky Halloween Chocolate Guinness Cupcake, Irish Whiskey Ganache, and Baileys Buttercream Frosting.
Ingredients
Guinness Cupcakes:
¾ Cups Flour
1 Cup Sugar
¼ Teaspoon Baking Soda
¼ Teaspoon Salt
¾ Cup Cocoa Powder
½ Cup Butter (Salted) - Room Temp or melted
¾ Cup Guinness
1 Egg
⅓ Cup Heavy Whipping Cream
1 Teaspoon Vanilla
For Whiskey Ganache:
1 Cup Chocolate Chips - I used Dark Chocolate
¼ Cup Heavy Whipping Cream
½ Tablespoon Butter
1 Tablespoon Whiskey - I used Jameson
For Buttercream Frosting:
5 Tablespoons Butter
2 Tablespoons Baileys - Or another Coffee Liquor
1 Teaspoon Vanilla
¼ Teaspoon Salt
1-2+ Cups Powdered Sugar. (Depending on how firm you want the frosting you may need to add more sugar.)
Instructions
Guinness Cupcakes:
Heat Oven to 350
Mix together dry ingredients in large bowl.
In Separate Bowl add butter, then soften. Add in the rest of the wet ingredients and mix.
Add wet mixture to dry mixture and combine until the batter is moistened all round. (it may be slightly lumpy.)
Grease your cupcake pan and coat with cocoa powder. (Or use liners)
Pour in Batter and Bake until the centers hold their shape. (or toothpick comes out clean)
For large Cupcakes 15-18 Minutes
Note: The alcohol cooks out of the cupcakes.
Let Cool
For Whiskey Ganache:
Heat the ingredients over low heat stirring continuously with a spatula until just melted. Remove From Heat. Keep mixing until smooth.
Note: The whiskey DOES NOT cook out all the way. This works without it (Or Coffee is a tasty sub too)
Pour Over cooled Cupcakes and pop into fridge until firm. (About 10 Minutes)
If you want a ganache center don't forget to poke a small hole in the cupcake halfway through!
For Buttercream Frosting:
Beat the butter until fluffy then add in Baileys (Or Coffee/Extra Cream), Vanilla, Salt, and 1 Cup of Powdered Sugar. Take off of mixer and add in ¼ cup of sugar at a time until it's to the consistency of your liking.
Decorate!
YUM.