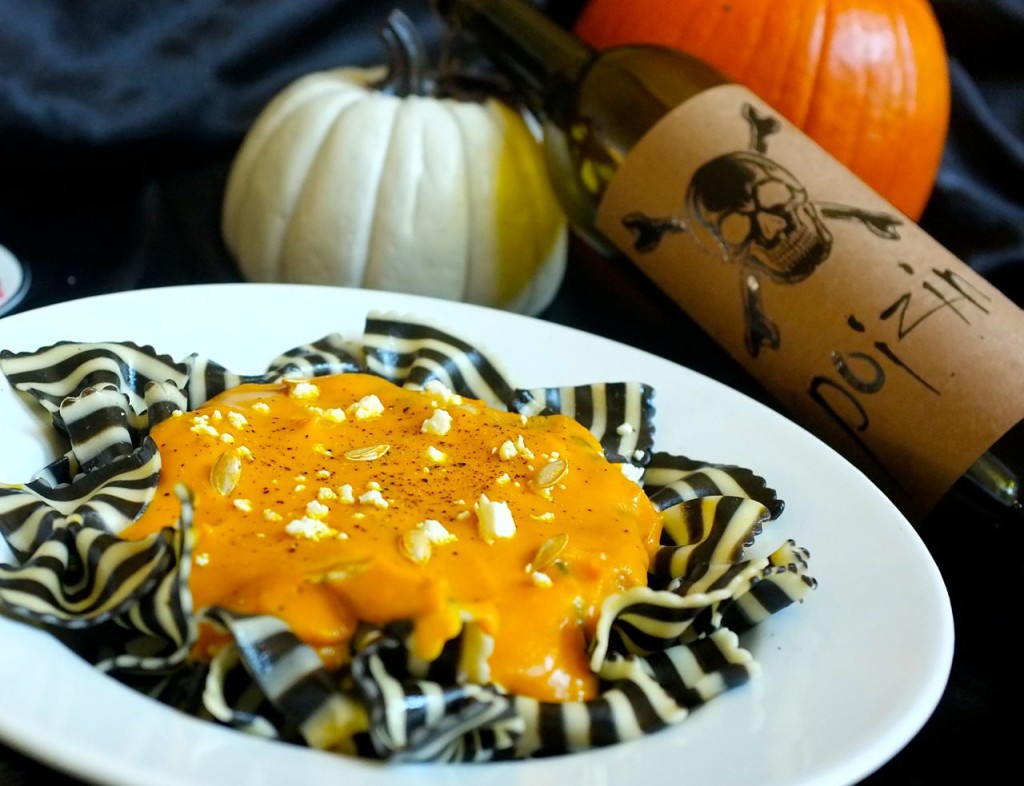 These festive bow ties were advertised to me on Amazon Prime during a late night shopping sesh, and I just had to have them for Halloween! James thought I was a little nutty, when the package arrived (almost a daily occerence at our place-anyone other Amazon addicts out there haha?) I think he was expecting his kickball or superman t-shirts that day (no joke), and was confused as to why I would order and entire case of handmade, black and white pasta, from Italy. Here's my answer: A food obsessed girl has gotta indulge every now then, the case was a better deal (I am willing to share friends!), and those perfect candy striped bow ties are friggin' sexy, gosh darn it!
In case you were wondering, and/or want to creep out your dinner guests, the black stripes in the bow ties are made with squid ink!  The ink does a fine job in dying things black, but can't be tasted in the pasta.  After the bow ties were sitting on my counter for a couple days, I got to thinking about an orange sauce to really set off the black and white stripes, and brewed up this velvety butternut squash recipe.  Hopefully my beloved won't mind his Butternut Bow Tie Pasta served with a side of Poizin…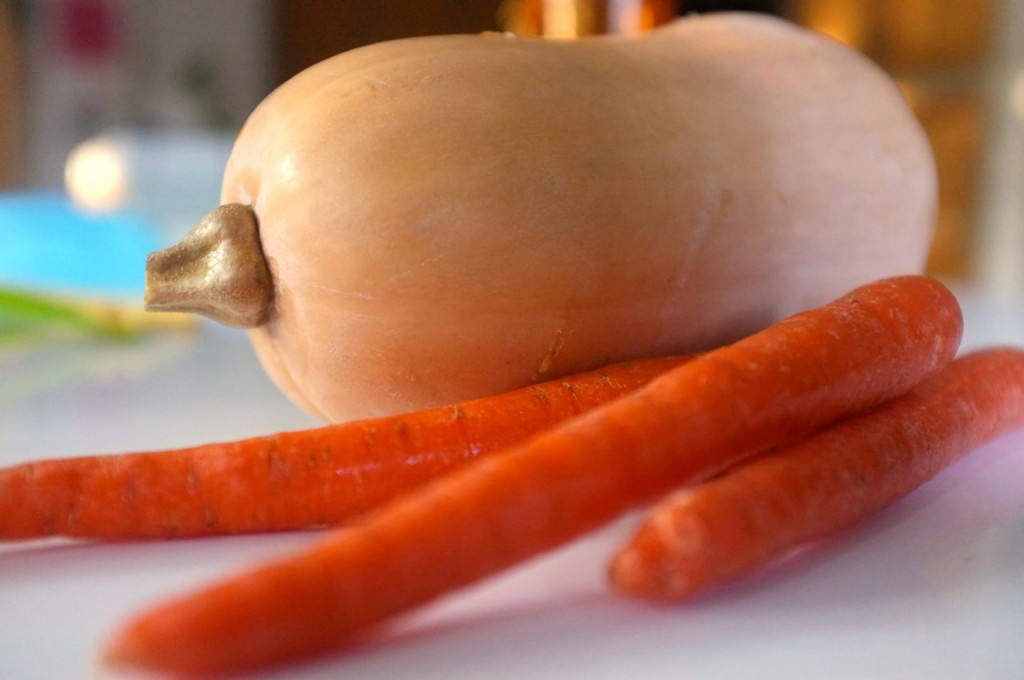 Butternuts are a lovely sweet tasting squash with flesh and seeds much like a pumpkin.  However their shape and hard outer skin can make them a tad cumbersome to work with.  This being the halloween season and all, I have a TRICK for you.  Simply stab your squash a couple times with a knife and microwave it for 2 minutes.  It will no longer be rock hard, and your chances of lopping of your finger will be greatly decreased!  Also, this stabbing knife pic, reminds me of one of those creepy photos in The Walking Dead's opening sequence..aaand I just got goosebumps just thinking about it.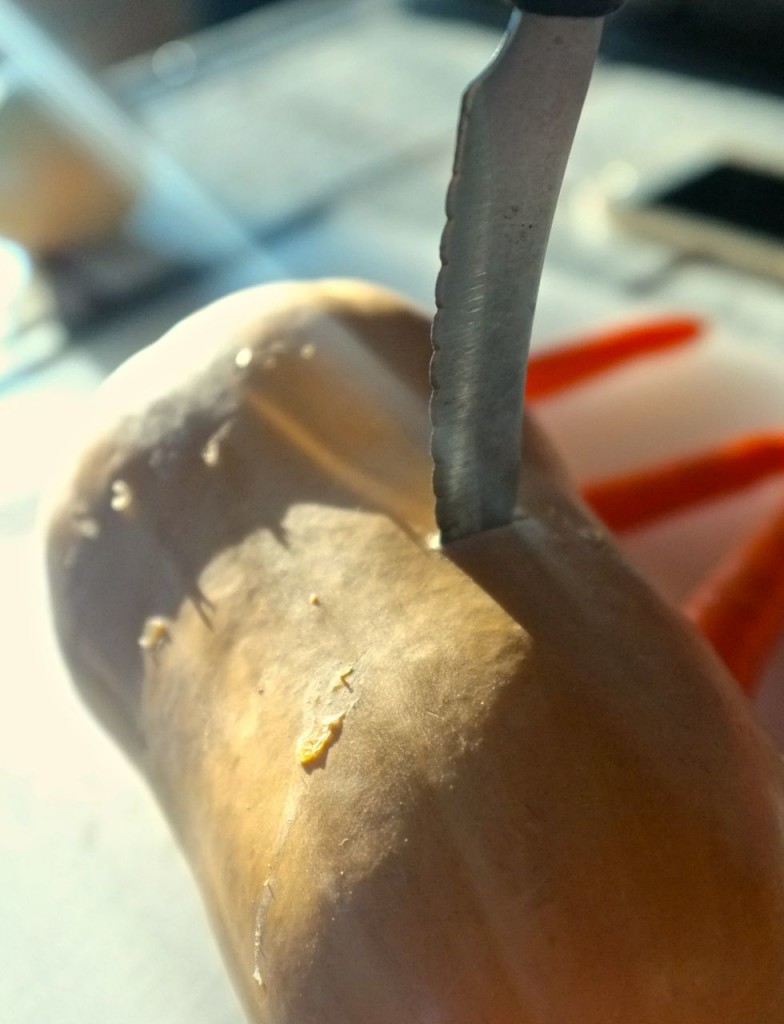 Next, you will want to peel and chop your squash into about 1/4 inch cubes.  So, start by cutting the ends off, peeling or slicing the tough skin, and then cutting it in half long ways.  Next, scoop out the seeds and guts and reserve seeds to bake for garnishing/snacking.  Then if you cut the squash just above the hole you cleared out, it will be more manageable to dice from there.  While cutting the carrots and onions on the same board, this candy corn just sort of materialized-WIN!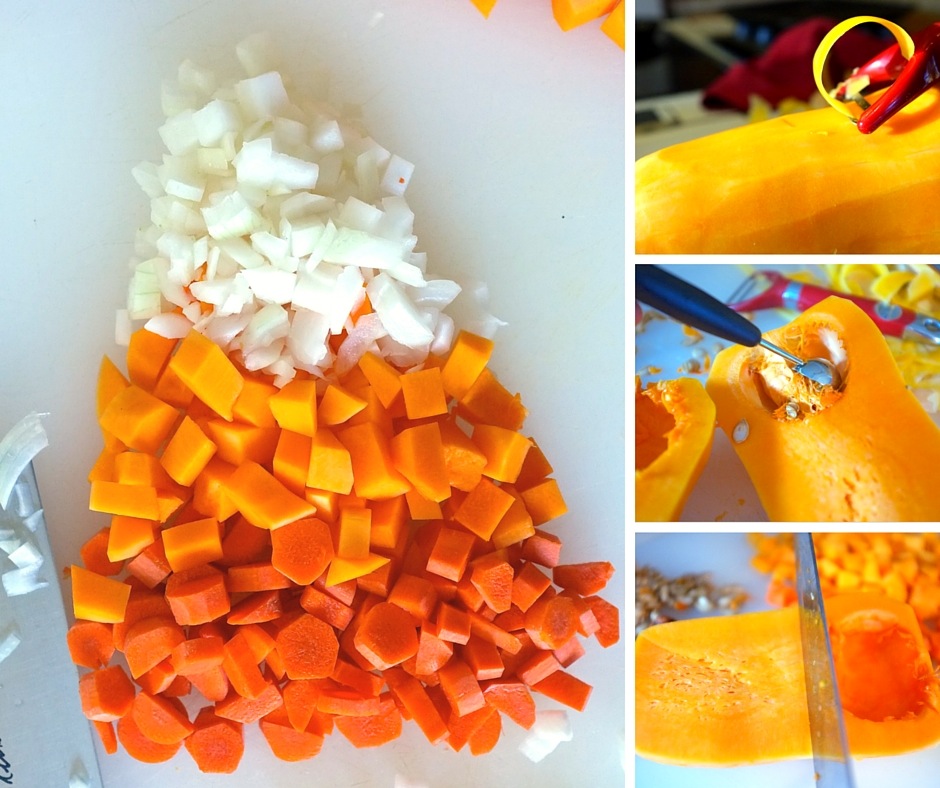 This butternut squash sauce doesn't require much! After you have your veggies chopped, just add in the spices and saute' everything in a heavy bottom pot, with a few tablespoon of olive oil, on medium for about 10 minutes. Enjoy the autumn aroma that if filling your home, as those spices open up!  When the onions soften, add the stock; could be chicken, could be vegetable, could be water.  My moto is: use what you got!  After, the stock is added, simmer for about 30 min or until the carrots and squash are soft enough to cut with a spoon. During this time cook pasta, and set aside.  Then, carefully, transfer cooked mixture to blender.  Toss in a couple dollops of sour cream, creme friache or plain yogurt, for a little bit of tang to off-set the sweet butternut squash, and puree until silky smooth.  If you own a magical wand/emersion blender, now would be a great time to bust that baby out, in lieu of the blender. Remember to blend with caution! Taste sauce for seasoning and add in more liquid if necessary.
Aabrahaaa Cahhhdabra it's ready to serve!
Top with garnishes of choice! Roasted butternut squash seeds, cheese, sour cream, fresh herbs, bacon…I even tried pomegranate (on one of the five bowls I ate), and it was tasty! For the side salad pictured, I just used my go-to method for a Crispy Kale Salad, and added in some seasonal fruits, like sliced persimmon, pomegranate, oranges, pumpkin seeds and feta. The creamy sweet pasta, crisp, zingy salad, and an inviting glass of Poizin, made for a deadly combination.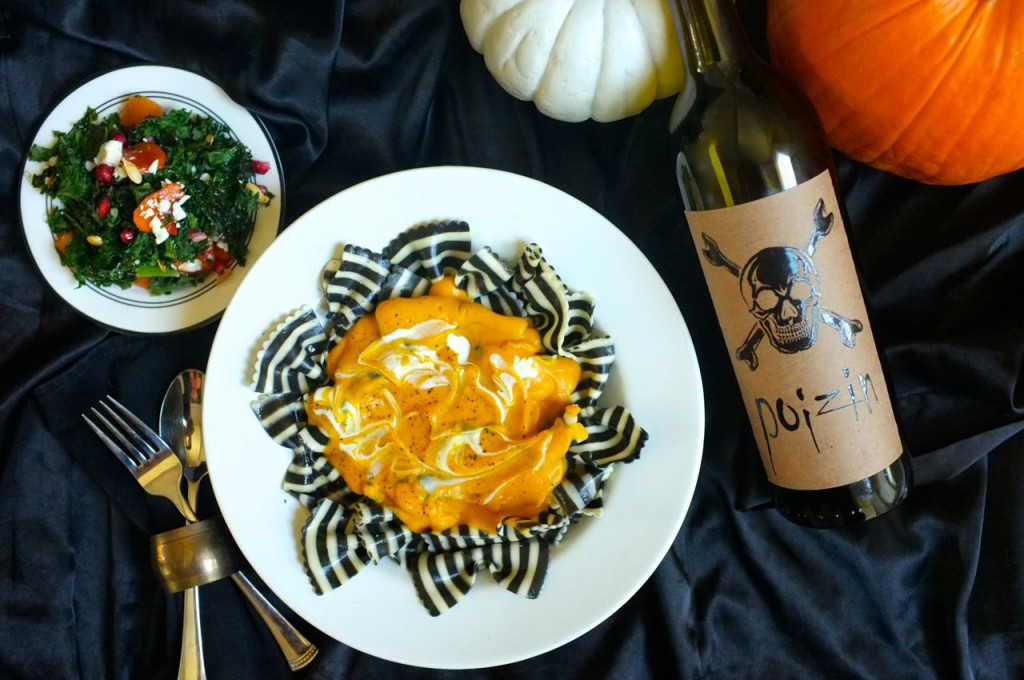 Butternut Bow Tie Pasta
Recipe type:
Dinner, Lunch
Prep time:
Cook time:
Total time:
Silky smooth, butternut squash sauce, with warm autumn spices, atop festive bow tie pasta.
Ingredients
1 butternut squash diced
4 average sized carrots diced
1 medium onion diced
¼ teaspoon cinnamon
¼ turmeric powder
1-2 tsp kosher salt
½ tsp black pepper
2-3 cups stock or water
½ cup greek yogurt, or sour cream
3 Tbs olive oil
1# pasta (bow tie pictured found here: http://amzn.to./1P23FZB )
Instructions
Saute' squash, carrots, and onion with olive oil for about 2 minutes and add in spices.
Continue cooking on medium-low for about 10 minutes.
Add stock or water and gently simmer for about 30 minutes or until carrots and squash are soft.
Cook pasta according to package directions and set aside.
Blend until silky smooth (be careful not to splash on yourself !)
Add in sour cream or yogurt and blend for another 10 seconds.
Taste for seasoning and add more liquid if necessary.
Serve over prepared pasta.
Enjoy with toppings of your choice!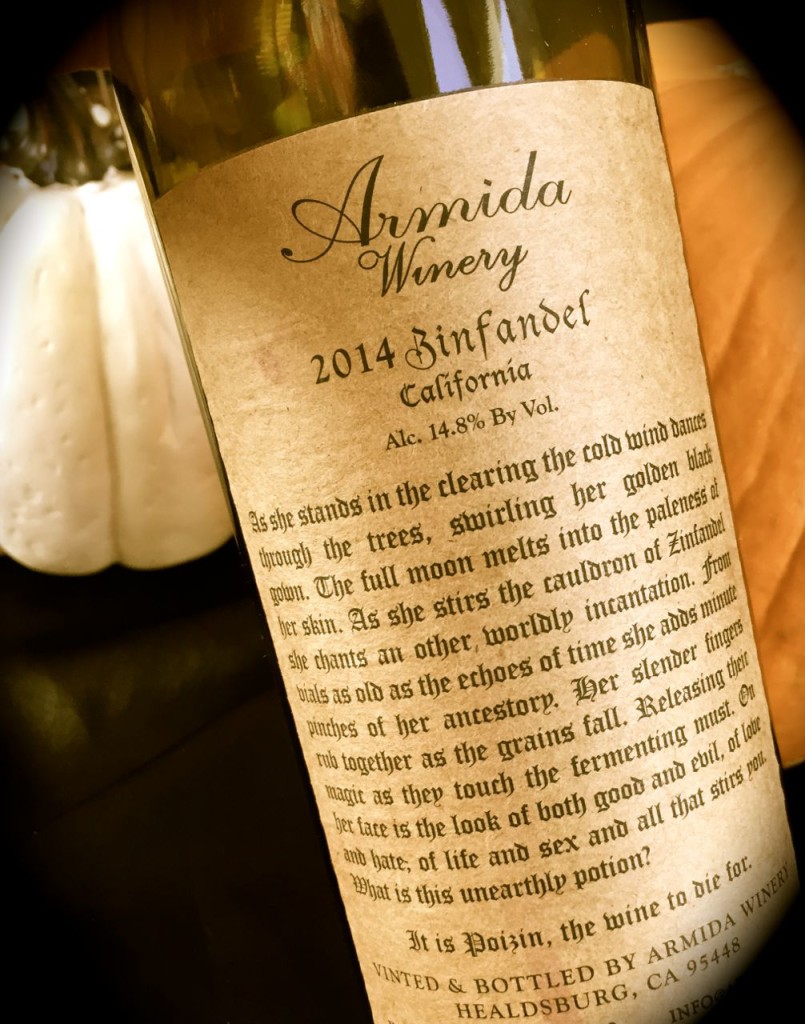 I just love a good Halloween tale.