Strawberries? Check. Sweet Cream Cheese filling? Check. Dusting of Powdered Sugar? Check.
Delicious warm, light and soft Crepe wrapping all these items together? Check.

I could seriously eat Crepes everyday. There's just so many options! You can fill them with sweet, with savory or anything in between. It's a personal decision of beautiful breakfast bliss.
Blueberry Coconut Mint? I'm in.
Don't forget the Cheese Cream!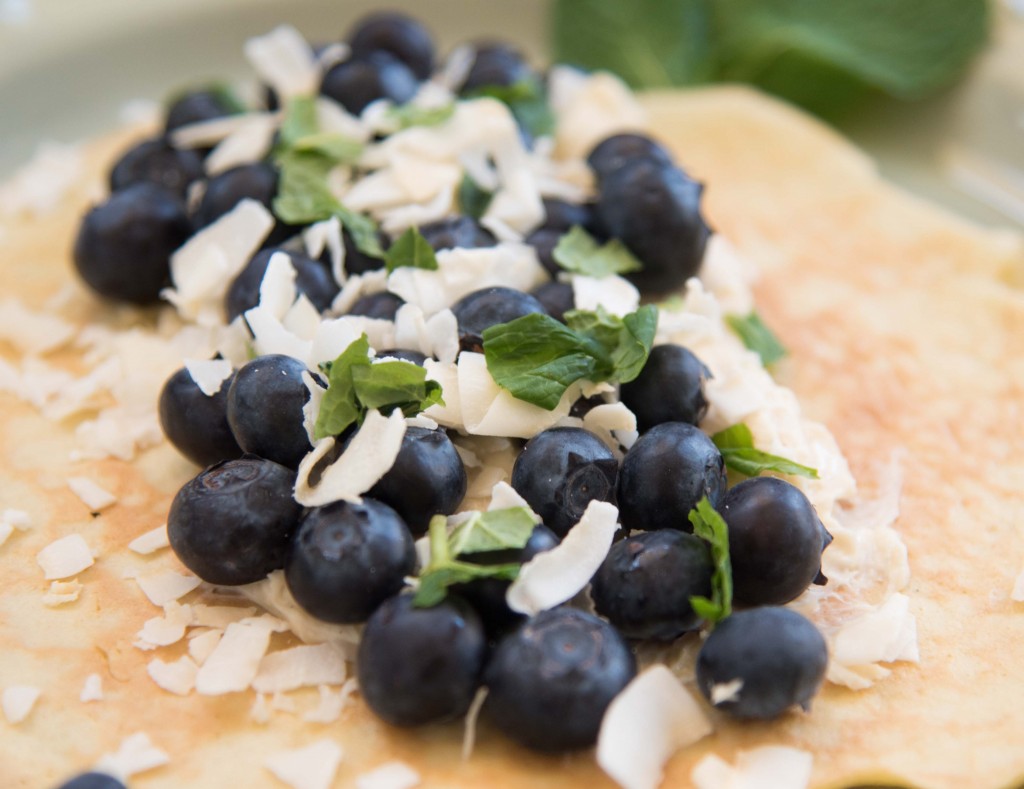 Chocolate Strawberry?
This one is perfect for Valentine's Day especially if you have some Heart Shaped Cookie Cutters to make a lovable little stack! Then drizzle with some yummy chocolate of course. (Chocolate Covered Strawberries as a side are total plus!)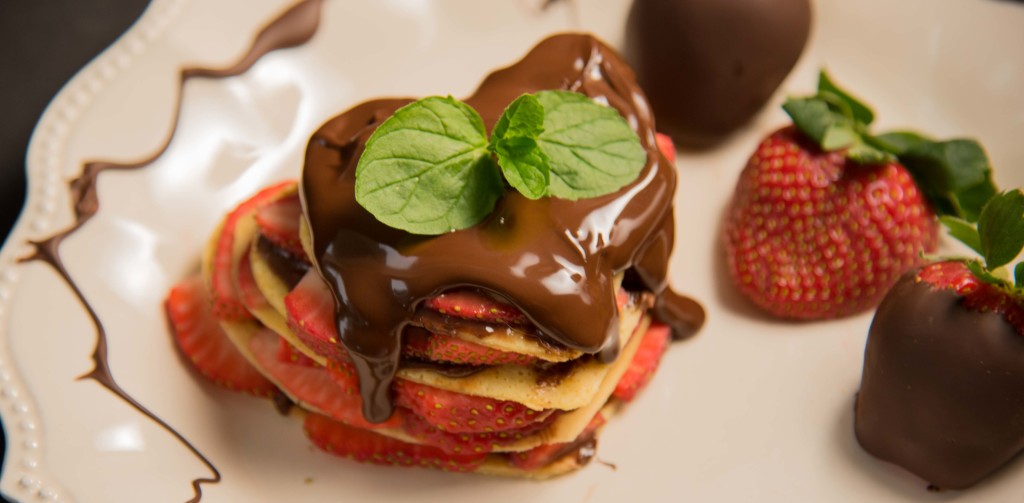 There are thousands of fillings out there. These are just a few of the my favorites. You can even fill these babies up with a scramble and top with some gravy. Just depends on what your feeling.
The best part about these?
They are easy to make and super quick!
First pick your fillings and prepare them so your Crepes are ready to be filled hot off the stove.
For the Cream Cheese Filling take 8oz and soften it about 20-30 seconds in the microwave. Add in teaspoon of Vanilla and 1/4 – 1/2 Cup powdered Sugar and mash/whip with a fork or Hand Blend until smooth. YUMMM.
Try not to eat it by the spoonful while making the Crepes……
Mix up the batter and turn your stove on to medium – medium high. Rub some butter on your pan or lightly spray with a non-stick so your Crepes don't decide to stick to your pan! After it's warmed up pour about a 1/2 Cup of the batter in the center of the pan.
You can make much smaller crepes and they go a little further if you use a 6 inch pan and less batter. (2-3 Tablespoons)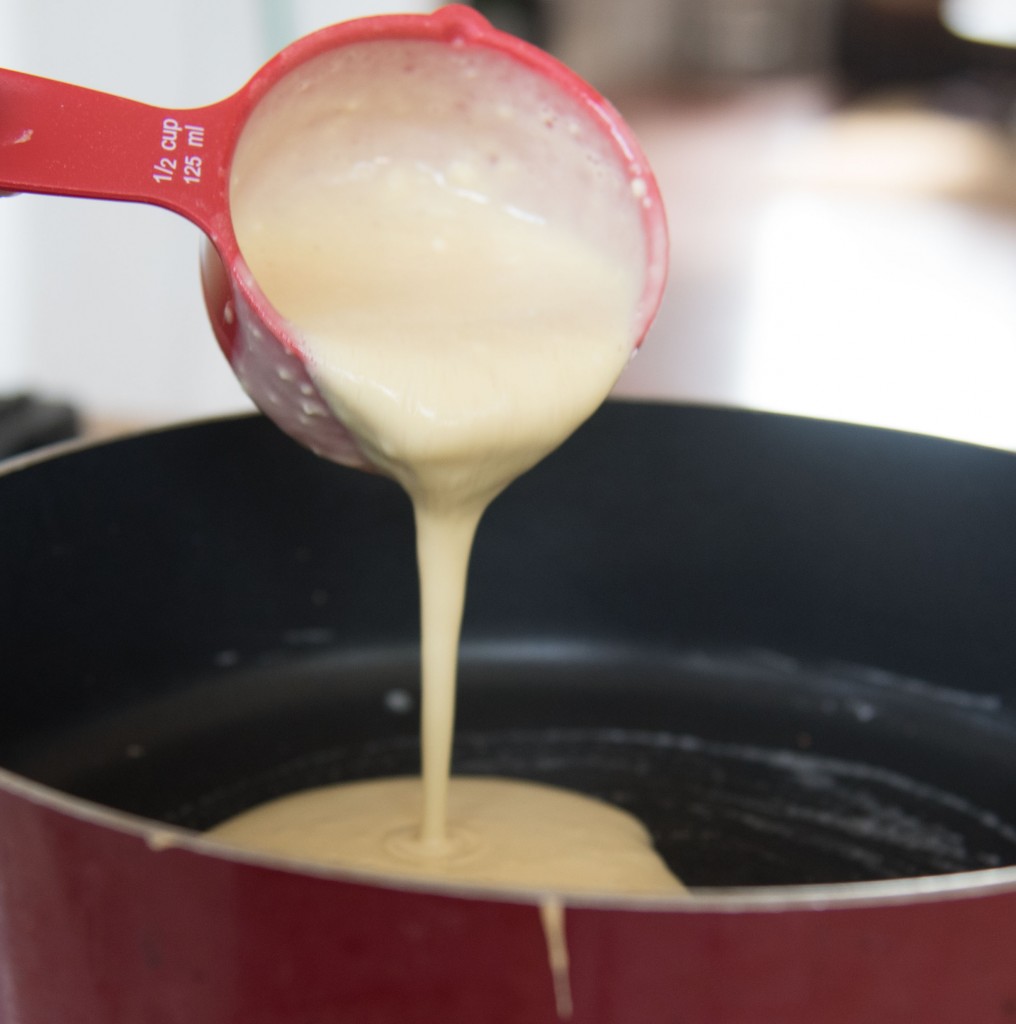 Now for the fun part! Slowly tip your pan around in a circle to spread the batter to the edges and thin it out.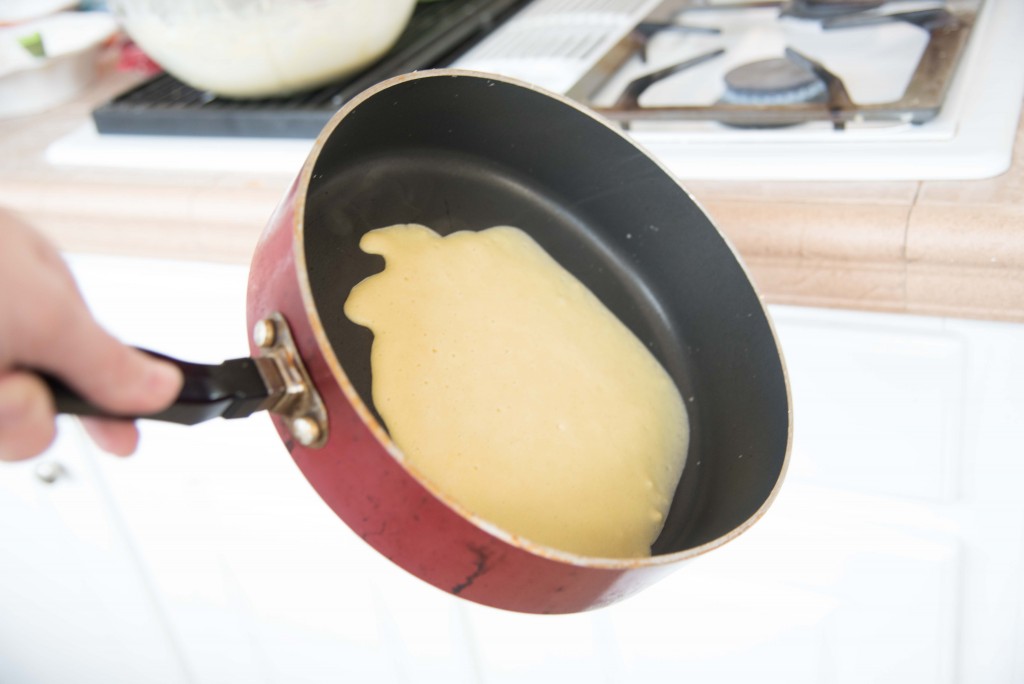 When the batter bubbles (About 1-2 Minutes)  flip the crepe over using a spatula. Or if you have mad skills flick your pan and flip it in the air! 😀 Breakfast Flair! *Crepe Lands on Floor*
Not my best skill, perhaps your better!
When the other side is slightly brown (1-2 Minutes) pull the Crepe off and start a new one!
Fill with your favorite fillings and enjoy!
Breakfast Crepes
Prep time:
Cook time:
Total time:
A warm swedish pancake filled with sweet Cream Cheese filling and fruit or any number of tasty savory fillings.
Ingredients
Crepes
3 Eggs
1 Cup of Milk
1 teaspoon Vanilla Bean Paste or Vanilla
½ Tablespoon Oil
½ teaspoon of Salt
1¼ Cup of Flour
1 teaspoon Sugar (Optional)
Cream Cheese Filling:
1 8 Ounce Cream Cheese Bar
¼-1/2 Cup Powdered Sugar
1 teaspoon Vanilla Bean Paste or Vanilla
Instructions
For Cream Cheese Filling:
Soften Cream Cheese in microwave for 20-3- Seconds. Add in Vanilla and Powdered Sugar until desired sweetness and Hand Blend or Mix/Whip with a fork until smooth.
For Crepes:
Mix eggs, Milk, Vanilla, and Oil in a bowl with a whisk.
Add in Salt, Flour, and Sugar and mix until the batter is smooth. (There may be some very small lumps.)
Heat stove to medium-medium high and Lightly grease pan with butter or non stick spray.
Pour ½ Cup of batter into the center of the pan and slowly tilt the pan in a circle to spread the batter until it covers the whole pan. (For smaller crepes use less batter and a smaller pan!
When Batter Bubbles (About 2-3 Minutes) use a spatula and flip the Crepe. Then Cook until Lightly Brown (About 2-3 Minutes).
Fill with favorite Fruit and the Cheese Cream or with anything that sounds tasty in the kitchen!
I like to top mine with a dusting of powdered sugar too.
Some more Ideas Listed on the Recipe Page.