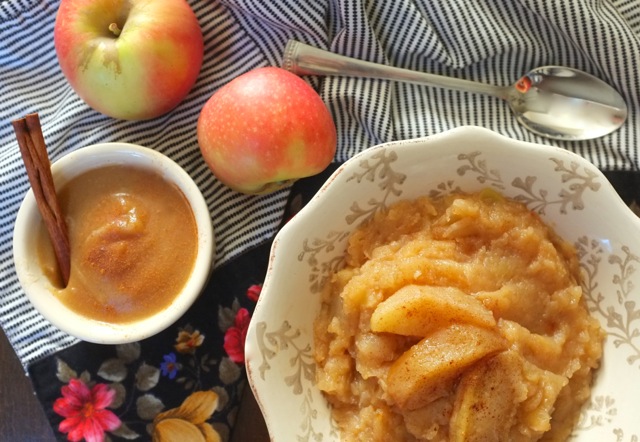 The leaves are changing and I'm feeling saucy! I can't decide which kind I like better: Smooth Crockpot Apple Sauce, or This Hearty Oven Roasted Apple Sauce.  So here is Apple Sauce Two Ways! Which team are you, smooth or chunky?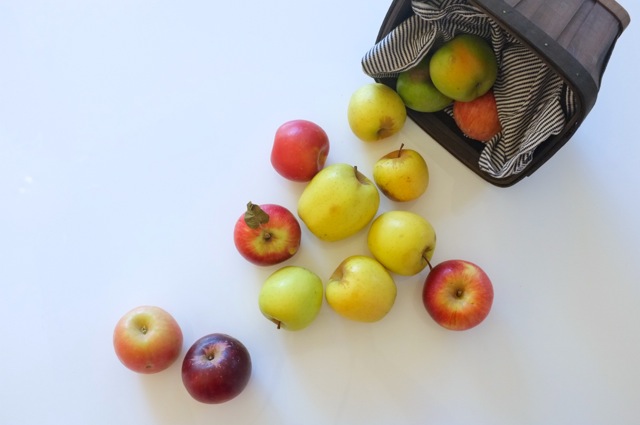 The apple kick all got started when Kaly suggested another RTO field trip, to Apple Hill (autumn apple lovers in Camino, California) promising that we could get loads of amazing apples, beautiful scenery, pony rides for the kids and some hot apple fritters that she assured, would change my life.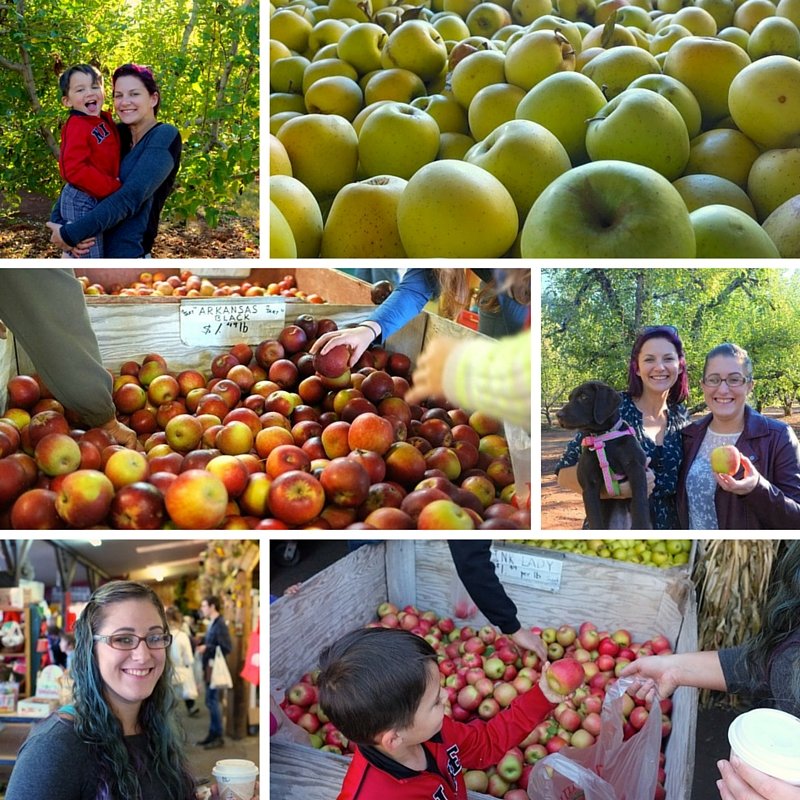 And she was right. But first, you should know my feelings on donuts.  I have never cared for them much.   I mean, if a chocolate dipped confection with rainbow sprinkles or a maple glazed beauty was put in front of me my child heart would dance with delight and my mouth would water with anticipation, but after a couple bites, the magic was overrun by too much sugar, and lack of substance and I'd be left craving some bacon, eggs, biscuits and gravy.  In my early twenties, I had romantic ideas about becoming a baker.  I found myself working for a large grocery store chain bakery, that put me to work as the donut slave.  Flipping donuts for the masses at 4am, splattered in fryer oil (that aroma will forever haunt me),  with sticky shoes and arm burns was officially my donut undoing. I loathed the little devils.  My blood pressure still goes up when I roll  by that glass store case, and all I can see is glazed evil deep fried memories staring at me.  But alas! Kaly rescued me from dark side.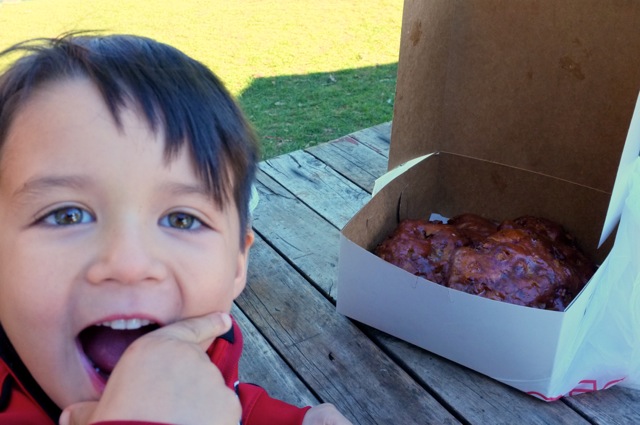 Those hot fritters up at High Hill Ranch are without a doubt, life changing.  Upon cradling that giant crispy, glistening, rich brown, cinnamon swirled apple laden fritter my icy donut heart instantly warmed. Just the right amount of sweet yeasty pull-a-part sticky goodness.  Aaaaaand now we have more apples than we know what to do with, because we have to justify our fritter trips with apple purchases. Totally logical.  We thought about trying to recreate the fritters into a recipe post, but I'm afraid that would take us years to master at the Apple Hill level.  You will just have to get up there and grab one for yourself!  In the mean time, should you be seeking the comfort of an old-fashioned fall treat, one, or maybe both, of these apple sauces should do the trick!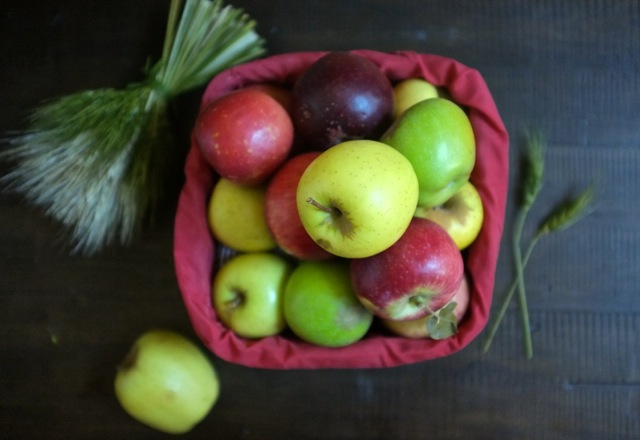 Apple sauce basically lends itself to any type of apple, even those ones at the bottom of your fruit bowl that are getting a little soft.  Picking a variety, if you have that option, is fun, and you end up with a nice balance of flavors.  I also tend to favor the Pink Lady, she is both sweet and tart with a nice juicy crispness. But like I was saying, if you have some oldies ladies that are not looking so pretty, cook them down into sauce and give them new life!
For the hearty chunky stuff, that is perfect for a pork loin, or a partner to your grilled cheese (mmm cheese my favorite!), you just need get ready to roast.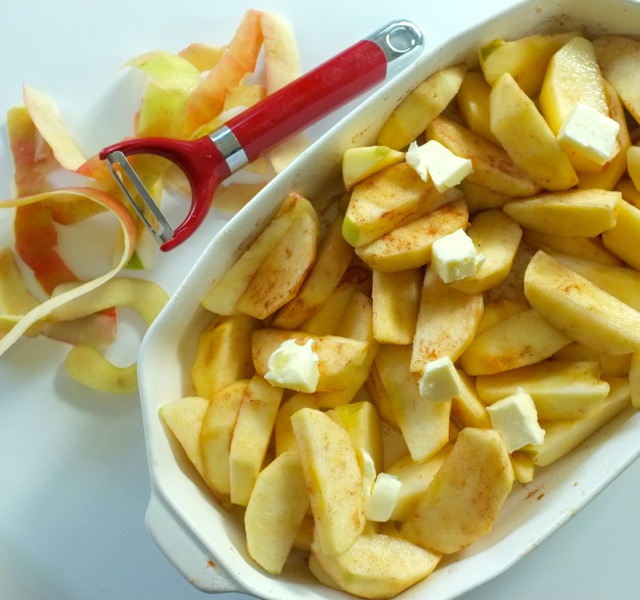 First peel, core and slice up about 7 apples.  Toss them in a greased baking dish with butter, a splash of apple cider vinegar, 1/2 tsp cinnamon, pinch of salt, a couple tablespoons of diced butter, and a 1/2 cup of water.  I like to add a splash of maple syrup if the apples are on the extra tart side.  Then cover with aluminum foil tightly and bake for about 30 minutes.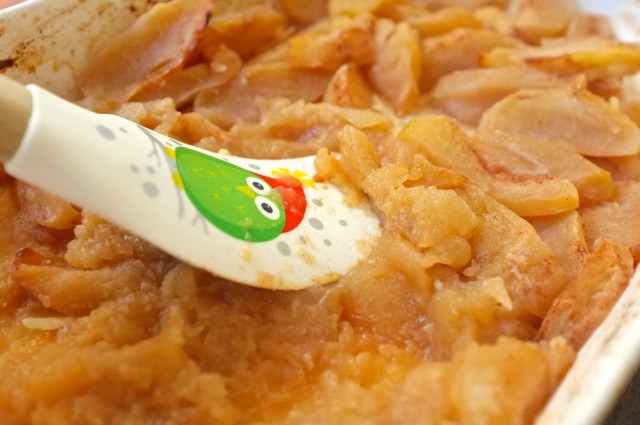 Remove the foil and crank up oven to 500 degrees for about another 10 minutes, until they get a little color.  Finally remove dish and mash with a fork, masher, or spatula to desired chunkiness.  Another confession: this is the part where I just grab a spoon and eat out of the baking dish, hehe.  Sometimes there is a little left for grilled cheese.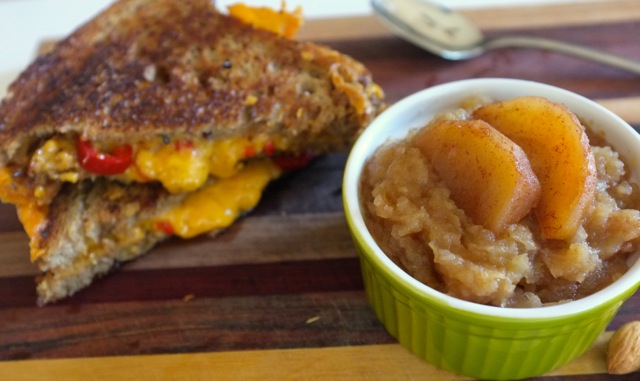 Roasted Apple Sauce
Recipe type:
snack, side dish
Prep time:
Cook time:
Total time:
Hearty roasted apple sauce on the chunky side!
Ingredients
7 Apples variety or your choice
1 Tbs apple cider vinegar
½ tsp cinnamon
pinch of salt
2Tbs butter
½ cup water
1 Tbs maple syrup as needed for extra tart apples
Instructions
Pre-heat oven to 400 degrees.
Peel, core and slice apples.
Toss apples in greased baking dish with remaining ingredients, and cover tightly with foil.
Bake for about 30 minutes, remove foil and turn up heat to 500 degrees for about another ten minutes, or until apples are soft and some have slightly dark edges.
Remove dish and mash apples with fork, spatula, or masher to desired chunkiness and enjoy!
Next up Team Smooth:
 No-Peel Crockpot Apple Sauce!